Paris Jackson Is Back To Going Topless In Latest Pic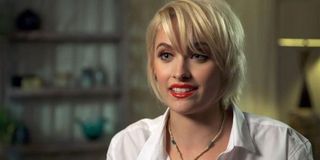 One look at Paris Jackson's recent social-media uploads, and you can see she is having the best bohemian summer ever. There are diagrams of chakras. There are third eyes and mentions of meditation crystals. There are bonfires, tattoos, and tie-dye tapestries. However, one thing missing from some of her updates is a shirt. For example, Jackson recently posted a photo of herself topless while enjoying some spirituality in the sunshine. Check out the image here:
In recent months, Paris Jackson has become an advocate for spending the day outdoors in one's birthday suit, so seeing her topless with a Buddha is on-brand. However, Buddhism gives mixed reviews. Some people say being naked helps people realize the futility of desire, thereby increasing contentment. Meanwhile, there is a whole line in the Dhammapada that says the only way to purify is to overcome doubt, and nothing else will suffice, including going around naked. Jackson's topless meditation should be NBD, but it depends on whom you ask.
Regardless, this instance is by no means the first time Paris Jackson has appeared topless on social media, and it probably will not be the last. Earlier this year, the 19-year-old daughter of the late Michael Jackson shared a topless picture on Instagram and explained that she loved to hang out naked outdoors to soak up the sun and gain energy from the earth. She made it sound like nudity is becoming a custom in her everyday life. In fact, here is the Hollywood up-and-comer in another topless photo from the same day:
Paris Jackson's topless photos might come as a shock to some people who remember her as the little girl who stood with Janet Jackson and spoke bravely at her dad's funeral or the young teenager who eloquently talked to Ellen and Oprah about her life. Nevertheless, Paris Jackson does not have time for people who judge her topless photos. Recently, she even posted a meme to emphasize that point. It said,
Right on! As mentioned, Paris Jackson has been showing off her hippie-dippie side a lot lately. Her social-media presence is like a collage of every new-age meme you have ever seen. There are quotes by the Dalai Lama and other meditation gurus talking about God and the universe. She posts images of herself overlaid onto pictures with Paul McCartney and John Lennon during their Yellow Submarine days. She promotes awakening your true spirit, transmuting emotions into positivity, and obtaining peace in the outer world by making peace with yourself first.
So, the whole "the body is a temple" idea aligns. I dig the fact that Paris Jackson is happy, and it is groovy to see a young person using social media to send positive vibes to others.
Your Daily Blend of Entertainment News
Thank you for signing up to CinemaBlend. You will receive a verification email shortly.
There was a problem. Please refresh the page and try again.