Why Jennifer Lawrence Loves Dating Director Darren Aronofsky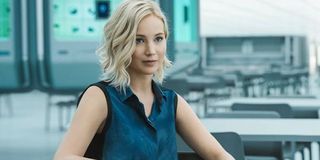 It has been about a year since rumors began swirling that Academy Award-winning actress Jennifer Lawrence was dating acclaimed director Darren Aronofsky, who recently directed her in the upcoming film mother!. Now the 26-year-old movie star has confirmed those reports, and opened up about the budding relationship. In a recent interview, Lawrence indicated she feels calm and clear-headed when she is with Aronofsky, and she was happy to talk about how well her relationship with him is going. She praised Aronofsky after she had seen the finished cut mother!, and she emphasized that she loves what a smart person he is. Lawrence said,
Jennifer Lawrence talked about her romance with Darren Aronofsky in the September issue of Vogue, for which she graced the cover in a stunning photograph by Annie Leibovitz. In the article, Lawrence did not say it was love at first sight, but she did reveal that she and Aronofsky felt a unique energy. She said the fact that Aronofsky went to Harvard initially made her feel uneasy because she has had negative experiences with guys who boast too much about their academic career. However, Lawrence said Aronofsky was not snobby around her, so their personalities meshed well. (After all, she's "the most relatable" actress in Tinseltown, so any guy she dates should be somebody with an approachable personality.)
From the sounds of it, Jennifer Lawrence and Darren Aronofsky share commonalities. For example, they are some of the hardest workers in Hollywood, and the Oscars love regularly nominating both of them. At the same time, there are differences regarding tastes. For example, Lawrence loves Keeping Up with the Kardashians, and on the set of mother!, she had a tent devoted to the show. There were pictures of the Kardashians, and the show was on a constant loop. Lawrence would go to the tent whenever she felt stressed out and needed to decompress. Aronofsky didn't get why the Kardashians were her fix. Lawrence joked that Aronofsky finds her love of reality television "vastly disappointing." However, he let her do her thing anyway, which is a sign of healthy relationship.
Furthermore, Darren Aronofsky, who directed fantastic movies like Black Swan and Requiem for a Dream, seems to have given Jennifer Lawrence new motivation as an actress. Lawrence talked about how she normally is not one to rehearse scenes much before filming, but Aronofsky had her, Michelle Pfeiffer, and the other stars of mother! rehearsing before filming. Lawrence seemed to appreciate the extra push and said the practice helped get "in tune" with her character more than any other role she's ever done.
That sounds like the beautiful kind of encouragement that helps two people grow in a relationship. Hopefully, they can continue on this fun and supportive path.
Your Daily Blend of Entertainment News
Your Daily Blend of Entertainment News
Thank you for signing up to CinemaBlend. You will receive a verification email shortly.
There was a problem. Please refresh the page and try again.