All The Drugs Found In Tiger Woods' System During His DUI Arrest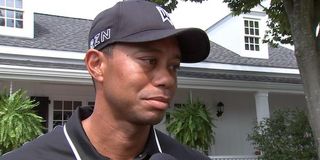 This week, the Palm Beach County Sheriff's office released the results of the toxicology report that followed Tiger Woods' May 29 arrest. Apparently, Woods had traces of five substances in his system when police arrested him on suspicion of driving under the influence (DUI) in Jupiter, Florida. According to the report, Woods had the following substances in his system:
Hydrocodone (i.e. Vicodin) and Hydromorphone (i.e. Dilaudid) are painkillers. Alprazolam (i.e. Xanax) and Zolpidem (i.e. Ambien) are mood pills for sleeping. THC is the main chemical compound in marijuana. These substances, including medical marijuana, can be legal in Florida.
Tiger Woods has a history of debilitating back pain and surgeries. Therefore, he might have had prescriptions for all of the medicines, but this aspect is unclear. But at the time of the arrest, Tiger Woods revealed that he had taken Vicodin, as he was still recovering from back surgery, and he mentioned having a prescription for Xanax.
On August 9, Woods pleaded not guilty to the DUI charge. The professional golf champion was supposed to have a hearing last week, but his attorneys worked out a standard arrangement with the Palm Beach County State Attorney's office. As TMZ tells it, Woods volunteered to enter a program for first-time DUI offenders. One condition of that program is that offenders plead guilty to reckless driving, a charge which they later can expunge.
Because of the last-minute development, the hearing got postponed by Chief Assistant State Attorney Adrienne Ellis and Tiger Woods' lawyer, Douglas Duncan. They agreed to work out the details of the plea agreement and return to court on October 25. At that time, Woods most likely will plead guilty to reckless driving, which is a misdemeanor charge. Then he will begin the state attorney's diversion program for first-time DUI offenders. He might also get 12 months of probation and community service time to complete.
Last month, Tiger Woods provided some details about his arrest in a statement he released through his representative. He explained,
This part of the statement corresponded with what Tiger Woods wrote earlier in the summer when he made a social media announcement to say he was "receiving professional help to manage" his medications and how he dealt with back pain. In the update, Woods continued by stating,
Tiger Woods has not revealed whether or not he formed an addiction to these medications, yet he received encouraging words from other athletes, such as golfer John Daly, who urged Woods to reach out if he needed support. Overall, it sounds as if Woods is going to receive plenty of help over the next year.
Your Daily Blend of Entertainment News
Thank you for signing up to CinemaBlend. You will receive a verification email shortly.
There was a problem. Please refresh the page and try again.