Sarah Jessica Parker Was Totally In Love With The Eclipse, Take A Look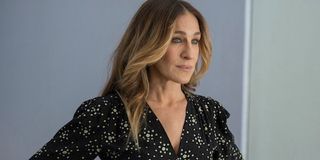 The Great American Eclipse was exciting for many people, and Sarah Jessica Parker was most certainly among them. For the event, the 52-year-old actress and her movie-star husband, Mathew Broderick, took their children to Charleston, South Carolina. There, the famous family experienced the extraordinary moment from aboard a boat, and SJP posted a series of awesome videos to document the moment. For example, here she is getting ready for the eclipse:
How cute is Sarah Jessica Parker in this Instagram video? She makes the geeky eclipse glasses look fabulous---"geek chic" perhaps. In the caption for the video, SJP remarked that the chip out of the sun looked like somebody took a bite out of a cookie.
In a second video, Sarah Jessica Parker became giddy with excitement as the moon crossed in front of the sun and sent the area into totality. SJP called it "the most spectacular light" she had ever seen. The Divorce star noticed unusual birds were coming out to see what was happening, and she remarked that lightning was going on around her. Parker referred to the eclipse as "the most spectacular, unimaginably perfect, beautiful" moment. Check it out here:
You know what? Sarah Jessica Parker sounded a lot like Carrie Bradshaw in this clip, especially when she said, "It doesn't make any sense!" Can't you just picture Carrie Bradshaw saying the same thing and then making that squealing noise? It was as if SJP became a kid again as soon as the sky went dark.
Finally, Sarah Jessica Parker posted a video of the eerie scene during the total eclipse. She remarked how strange it was to see the sky so dark with lightning in the middle of the day. You can clearly see how unusual everything looks, but SJP does a great job explaining it, too. Check out the video here:
After the eclipse, Sarah Jessica Parker took her family to the Gibbes Museum of Art in Charleston, South Carolina, before rounding out the day with a visit to the Historical Charleston Foundation's Aiken-Rhett House. It looks like SJP, Mathew Broderick, and the kids had a trip that they will never forget.
So, I got to thinking about Sarah Jessica Parker, the eclipse, and how much she sounded like Carrie Bradshaw. It was as if she were moments away from uttering a pun-tastic sentence like, "I had felt humbled by a shadow on the planet, so I couldn't help but wonder: Was I overshadowing my life by trying to plan it?" Or maybe, "We had entered totality, but across town, Samantha was staring up at a full moon."
Okay, okay, so that is reaching a bit. But seriously, seeing SJP have so much fun at the eclipse makes the memory extra special.
Your Daily Blend of Entertainment News
Thank you for signing up to CinemaBlend. You will receive a verification email shortly.
There was a problem. Please refresh the page and try again.