Why People Are Freaking Out About The End Of Taylor Swift's New Music Video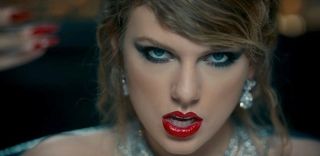 Taylor Swift premiered the "Look What You Made Me Do" music video at the 2017 MTV Video Music Awards over the weekend. In the video, the 27-year-old pop singer begins as a corpse a la Michael Jackson's "Thriller." She comes back to life and digs herself out of a grave. Who put her there is debatable, especially because the video ends with Swift conquering herself. Still, the video is rife with humor and symbolism, and one of the best parts happens at the end when Swift plays several versions of herself. Swift's fans on social loved the sequence and could not stop posting about it. For example, this fan "choked" because it was such a funny bit. Check it out:
Another fan praised the sequence and explained the multiple versions as Taylor Swift's self-deprecating way to take back her story. According to the fan:
Perhaps Taylor Swift was telling her rivals (and her past self), "I am rubber, and you are glue." This fan hit the nail on the head, tweeting:
At one point in the music video, which is now online, a self-aware, late-twenties Taylor Swift stands on a pile of the past Taylors. The image seems to symbolize how Swift has come out on top of her life. It's a theme Britney Spears used a few ways in her "Hold It Against Me" music video in 2011. It is a cheeky yet powerful image, but the best use of the past Taylors happens in the final scene of the video. Check it out in full:
The bit starts with the various Taylor Swifts magically standing in a line. "You Belong to Me" girl-next-door Taylor makes a surprised face because they are all together, but "Look What You Made Me Do" corpse Taylor tells her to cut it out. "Shake It Off" ballerina Taylor agrees.
Then another Taylor gestures to corpse Taylor and asks, "What's with that bitch?" (like anybody would when standing next to a zombie.) Of course, corpse Taylor has to say not to call her that, which is a tongue-in-cheek reference to Taylor Swift speaking out against Kanye West for calling her "that bitch" in his song "Famous."
Next, a Fearless Tour-era Taylor Swift says "Y'all" and gets emotional, but a 2012 MTV EMAs ringleader Taylor says she's being fake and playing the victim. Finally, a 2008 VMAs Taylor, the one Kanye West interrupted to praise Beyonce, takes a stand. Holding an MTV Moonman, she demands not to be part of the narrative, similar to what Swift said when Kim Kardashian blasted her on social for supposedly colluding with Kanye West to spark a controversy.
The final scene is not long, but it is full of laughs. It is always fun seeing celebrities in on the joke, and Taylor Swift certainly is poking fun at herself here.
Your Daily Blend of Entertainment News
Thank you for signing up to CinemaBlend. You will receive a verification email shortly.
There was a problem. Please refresh the page and try again.