All The Details On Taylor Swift's New Album Reputation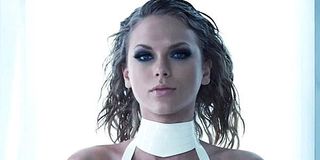 Little by little, Taylor Swift is revealing her exciting, secretive plans. The 27-year-old pop star rebooted her social media presence days ago, and now she has given some explanation. Apparently, her fans and followers had the right idea when they guessed that a new album was on the way. Swift tweeted a direct statement to let everyone know that she is ready to clean up her "reputation" with a new album and single. Check out the post:
Wow, it's all happening! Taylor Swift has a new single tomorrow and a new album on November 10. Coincidentally, her new single drops the same week as the 2017 MTV Video Music Awards, so that is convenient. (Wink!) But really, it has been about three years since she released 1989, so the timing is perfect.
Earlier this week, Taylor Swift wiped her Instagram, Twitter, and Facebook of almost all pictures, posts, and tweets. Then on Monday, Swift posted a cryptic grainy video of what appeared to be the tail of a snake. Her fans and followers quickly jumped to the conclusion that Swift's unusual activity on social signaled the beginning of a new era. Now we know that was correct. Of course, the news sent Swift's fans into meltdown mode on social with hilarious posts like this one:
And here is a hilarious post about Taylor Swift beating Fifth Harmony to the punch, which is probably funny for anyone who isn't in Fifth Harmony:
As for that grainy video, if it were, in fact, the tail of a snake, it would make sense. First of all, Taylor Swift was born in 1989, which was the year of the snake on the Chinese Zodiac. Furthermore, people on social called her a snake when Kim Kardashian hopped on Snapchat and uploaded recordings of Swift and Kanye West possibly colluding to spark a controversy.
So, is it a song title? Is it a piece of concept art or a clip from a music video? The snake motif would work well with this new album. Taylor Swift can do a lot under the umbrella of "reputation." Swift has found herself in a dozen or so controversies with other celebrities in recent years. She supposedly wrote "Bad Blood" about Katy Perry. Swift's exes, such as John Mayer, have dragged her through the mud. Even friends in Swift's inner circle, such as Lorde, have had inadvertent pot shots.
Plus, Taylor Swift has gone to court at least twice in the past few years to uphold her integrity. Most recently, she went to court to face a man who groped her. While he sought $3 million in damages for supposed defamation of character, she countersued for one single dollar and charged him with assault and battery for touching her rear end. Perhaps she is ready to move on from all of the drama, which, to be honest, might be a nice twist.
Whatever Taylor Swift is about to do, we'll be here for it. Bring on the new single and album.
Your Daily Blend of Entertainment News