Britney Spears' New Workout Video Is A Great Reminder That She's Still In Amazing Shape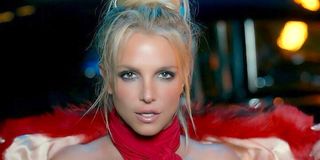 Britney Spears is enjoying well-deserved time off after returning to the United States from Asia, where she took her Piece of Me show on tour earlier this year. Apparently, the 35-year-old pop icon is spending her free time working on her fitness. In a short video clip, Spears offered her social media followers a glimpse at the hard work she has been putting in at the gym to keep her body banging. Check it out here:
Wow, Britney Spears looks astonishing. Her body is in tip-top shape, and she seems to be super flexible. Undoubtedly, the hours Spears spends dancing helps her keep fit. Still, seeing videos of her in the gym is a good reminder that sometimes a good old-fashioned workout is what the body needs.
Britney Spears' nonchalant attitude toward Instagram often receives praise for being laid back. Unlike stars whose social media accounts can create an unattainable image, Spears usually uses her accounts to have fun, goof around, and blow off steam. She is pretty family-oriented these days. At the same time, her posts emphasize how disciplined she is about exercising. For example, here is Brit Brit in another memorable video she posted of herself working out with her trainer:
Then there was this awesome video of Britney Spears doing crazy crunches. (Listen closely and you can hear the singer's mom-side come out when she hears a child at the gym call out, "Mama."):
Britney Spears knows what it is like to be a workout inspiration. When she was a kid, she told Oprah about how she would do 1,000 crunches a day to keep her abs tight. It looks like crunches are still a big part of her gym routine. Take a look:
Come to think of it, the workout videos Britney Spears posts to social media have big potential. Maybe she could do something like a series of Jane Fonda-style workout videos for Hulu or Netflix. After all, her Las Vegas residency with the Piece of Me show is ending. She supposedly has a Glory follow-up album in the works with plans for more touring, which means she will be in the gym a lot anyway. Why not film instructional workout videos?
On the newest video alone, there are plenty of comments from Britney Spears' followers who have legitimate questions about her diet and exercise regimen. Therefore, there is a demand for these videos. Plus, think about how fun that would be to workout with Britney. Her music is probably on your exercise playlist for the gym anyway.
Your Daily Blend of Entertainment News
Your Daily Blend of Entertainment News
Thank you for signing up to CinemaBlend. You will receive a verification email shortly.
There was a problem. Please refresh the page and try again.