Who Is Taylor Swift's New Song About? We Take A Look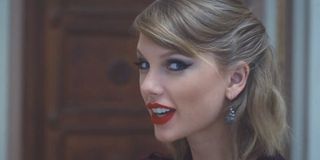 Think Taylor Swift doesn't give a damn about her bad reputation? Think again. The 27-year-old pop star is back with a vengeance on her new track, "Look What You Made Me Do." It's the first single from her new album, Reputation, and it's clear Swift is ready to take back her good name. Swift released the song around midnight on Thursday, August 24. If you haven't heard it yet, you can remedy that below.
If you listen to "Look What You Made Me Do" without watching the lyric video, you might find the song a departure from past Taylor Swift singles. There is something about the song that sounds a bit like Robyn, particularly during the chorus. (Seriously, where is Robyn? Can she come back stat?) The song is a bop. However, the new music adds some creepy, Agatha Christie-style mystery. It amplifies the entertainment factor and makes the song more memorable.
So, whose head is on the chopping block this time? Maybe Taylor Swift is going after her exes, like John Mayer or Harry Styles, for using her as a talking point in interviews. No, that sounds off. It could be about Lorde putting her foot in her mouth when discussing Swift, but that makes no sense either, as Lorde apologized.
Perhaps this is Taylor Swift's way of rehashing the "Bad Blood" between her and Katy Perry. But probably not. The "Swish Swish" singer single-handedly managed to take care of that when she released her new album earlier this year. In fact, a lot of Perry's album promotions seemed focused on that topic. We're assuming Swift noticed that it got old.
Is Taylor Swift still mad at Apple Music? No way. The song is available there. Is this song about the guy who groped her and then took her to court for defamation of character? Not a chance. Swift not only dismantled his case but also won a countersuit against him for assault and battery.
But that just leaves ... (GASP!) ... Kanye West and Kim Kardashian. Hmm. We can't be sure, but it certainly seems like Taylor Swift may be angling for the ultimate Kimye takedown like Emily Thorne going after Conrad and Victoria Grayson on Revenge. It appears Kardashian and West forced Swift's hand by dropping her into a narrative that painted her as a liar and a master manipulator. It was a celebrity-gossip plotline that came about after Kanye West included an unflattering Taylor Swift lyric in one of his songs and there were varying perspectives about whether or not she knew the line would be included.
But, here we are, and now Taylor Swift is back with guns blazing like Uma Thurman in Kill Bill. Kanye West's and Kim Kardashian's fans called Swift a snake. Swift even blocked the snake emoji in comments on social, but now the tables have turned and she is taking ownership of the snake. (Meanwhile, Kim Kardashian's Twitter reportedly blocks snake emoji now.) So, it's like Swift is taking a page from Aladdin and became Jafar saying, "A snake am I? Let's try to see how snake-like I can be." (Then again, Jafar was the villain, so we'll have to see where Reputation is going.)
This week, before releasing the song, Taylor Swift wiped her Instagram, Facebook, and Twitter clean of pictures, posts, and tweets. Day by day, she revealed hints about her master plan, which began to unfold with cryptic grainy videos of a snake.
Later, Taylor Swift announced that her upcoming album has a release date of November 10, and she told fans to keep an eye out for her new single. Now our sources confirm that Swift will perform at the 2017 MTV Video Music Awards on Sunday, August 27. (Katy Perry is the host of the show, but we're betting the uncomfortable interactions between her and Swift will be minimal, as Perry has said she wants to bury the hatchet.)
Perhaps the next question is how the music video will look. Then the final question is how many times Diane Sawyer, or whoever, will say the words "Kardashian-West" and "snake" in the first major sit-down interview for this era.
Taylor Swift certainly has our attention. She is the new Count of Monte Cristo ready to avenge those who tried to shatter her public persona. There is no water under the bridge--only blood. Swift has the microphone, and she is not ready for forgiveness. Welcome to reckoning day.
Your Daily Blend of Entertainment News