Lady Gaga Is Apparently Into Topless Cooking, Here's The Evidence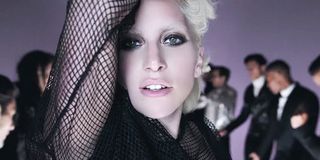 Lady Gaga wore creative costumes at the 2017 Super Bowl Halftime Show. But on the whole, she seems to be leaving the wild fashions at home and opting for a more natural look in public these days. In fact, if a recent social media photo is any indication, the 31-year-old singer keeps her clothes in the closet even at home, too. Lady Gaga posted a photo of herself cooking topless in a gorgeous kitchen, and she tossed in a special birthday wish to a fellow celebrity for good measure. Check out the image here:
Lady Gaga shared the image with her 24.5 million followers on Instagram, where she received more than half a million likes. With her back to the camera, the "John Wayne" singer showed off some of her giant back tattoo, which many followers praised in addition to commenting on the beautiful kitchen. Based on the emojis Lady Gaga used in the caption, it seems like she was cooking up a tasty breakfast, but we cannot know for certain. Moreover, she posted the image with a brief birthday message for supermodel Naomi Campbell, who turned 47 this year. Campbell's known for going topless on Instagram, so perhaps that's the connection?
Looking at the plate of food on the counter next to Lady Gaga, it appears she may have been cooking bacon, which is not the safest thing to cook, especially when one is shirtless. Regardless, the musician looks extraordinarily fit. She is, after all, preparing for her Joanne World Tour, which begins in Vancouver on August 1. Plus, Lady Gaga is busy filming A Star Is Born with her costar Bradley Cooper, who is also directing the film. So, she most likely is keeping toned with a regular fitness routine, and this picture shows proof of her efforts in the gym.
Lately, we have a seen a trend of women celebrities posting topless photos to social media. Heidi Klum shared a photo of herself topless on a boat. Paris Jackson posted a naked photo to Instagram and announced she loves being naked and worshiping Gaia. Now Lady Gaga is cooking up some body confidence with this topless photo. But of course, it is not the first time Lady Gaga has posted a picture without clothes on. In 2015, she posted a topless photo of herself in her costume as the Countess for the filming of American Horror Story: Hotel. Then in 2016, she posted social media images of herself topless while writing songs for her Joanne album. And there have been plenty of other moments when Lady Gaga decided clothing was optional; the kitchen adds a new angle though.
Your Daily Blend of Entertainment News