Why Demi Lovato Broke Up With Wilmer Valderrama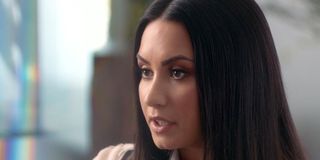 Demi Lovato has done much reflection in the several years since she got sober. Now the 25-year-old pop star has explained facets of her life in a new documentary that examines her family traumas, substance abuse issues, and romantic ups and downs. For instance, Lovato shared insight into her relationship with Wilmer Valderrama and why they broke up. Apparently, it all boiled down to her urgent need to recover and focus on her health. Lovato explained,
In Seriously Complicated, Demi Lovato's Youtube documentary, Lovato admits she fell in love with Wilmer Valderrama upon meeting him. She explains it was at least a year before they began dating, though, because at the time he was 29, while she was 17. Lovato says her love for Valderrama has not gone away. She reveals that he was her "rock" and her "everything" during hard parts of her recovery from alcohol addiction and substance abuse, and she says her heart might always be with him, though she is keeping an open mind in case love comes knocking in the future.
It is not the first time Demi Lovato has spoken with such kindness about her 37-year-old ex-boyfriend or touched on the fact that she broke things off with him to focus on her health. In 2016, Lovato told reporters that Wilmer Valderrama was a source of healing and hope during some of her worst days. She intimated that putting romance behind them could help them move forward as friends, and from the looks of it, they have done an excellent job of working out a friendship.
Earlier this year, for example, Demi Lovato and Wilmer Valderrama reunited at her party for Los Angeles Gay Pride. Lovato even captioned one of the photos to let people know she and Valderrama are "best of friends no matter what." Therefore, it seems evident that they share a friendly bond that is not going to end. But Demi Lovato certainly knows a thing or two about remaining friends with her exes. After all, this is the same person who recently made headlines for sending an outpouring of congratulations to her Camp Rock ex-beau, Joe Jonas, when he announced his engagement.
It is powerful to see how Demi Lovato handles her breakups, especially with her split from Wilmer Valderrama. It is a good reminder that relationships help people grow, but independent growth is critical, too.
Your Daily Blend of Entertainment News
Your Daily Blend of Entertainment News
Thank you for signing up to CinemaBlend. You will receive a verification email shortly.
There was a problem. Please refresh the page and try again.