Demi Lovato Reveals When She Hit Rock Bottom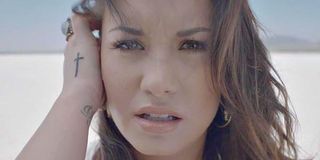 In recent years, Demi Lovato has been candid about her sobriety journey and mental health. Now the "Sorry Not Sorry" singer has opened up about the darkest hour that forced her to seek treatment for alcohol addiction and drug abuse six years ago. Apparently, Lovato had a low-bottom, and people in her life were fed up with interventions. They were ready to walk out, but tried one last time to reach her. Regarding that event, the 25-year-old pop star said,
Demi Lovato revealed the details of the intervention that stuck when she visited The Jonathan Ross Show for an upcoming episode. According to Daily Mail, Lovato spoke about recognizing the many opportunities she was wasting because of her alcohol and drug use, and that aspect played a part in her decision to get sober. However, the real change came when Lovato learned her parents would not let her interact with her younger sister because of the unhealthy things Lovato was doing.
Fortunately, Demi Lovato made sweeping changes in her life by kicking alcohol addiction and drug abuse to the curb. When Lovato began focusing on her health, her family swept in with open arms to support her through the process. The actress and singer revealed that everyone from her relatives to her friends to her manager played a helpful role in helping her get and stay sober. She also credited her fans with giving her "a reason to live" during those hard times.
The road to sobriety was not easy. Demi Lovato admitted there were "tough times" after committing to her sober life, but she went to a treatment center for rehabilitation and managed to overcome her alcohol addiction and drug abuse issues. Now she speaks out in the hope that her story might inspire people who want or need help. Lovato shared words of encouragement for anyone struggling with addiction and said,
Demi Lovato confessed that she sees a therapist a couple of times each week. She takes her prescribed medications for her bipolar disorder, which she has previously spoken about in detail. Furthermore, Lovato attends support groups, such as Alcoholics Anonymous, and keeps active with regular exercise because she believes in taking a holistic approach to wellness.
It is wonderful to hear Demi Lovato share the details of her sobriety journey. She has an enormous platform, so by talking about her daily fight and past problems, Lovato might save the lives of people whom she does not even know.
Your Daily Blend of Entertainment News