When Prince Harry And Meghan Markle Will Make Their First Official Appearance Together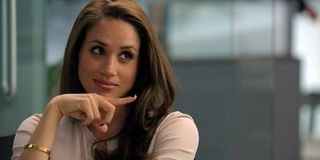 Prince Harry and Meghan Markle might make their first official public outing together this month. Supposedly, the prince and his actress girlfriend could attend the Invictus Games in Toronto, Ontario. Injured and disabled veterans participate in the Games. Prince Harry, who served in the army for ten years, now works in close collaboration with the Invictus Games and the participants. Because Meghan Markle shoots Suits in Toronto, this particular event could be the right place to debut as a couple.
If the New Zealand Herald is correct, Prince Harry and Meghan Markle might step out together for the Invictus Games on September 23. But while Prince Harry and Meghan Markle have not yet made a public appearance, they have attended plenty of private events. For example, Markle went to Pippa Middleton's wedding reception in May as Prince Harry's plus one. It was a big deal because few people could bring a guest. The gesture signaled Prince Harry and Markle were becoming serious in their relationship. Similarly, they have traveled together. They went to Botswana to celebrate her 36 birthday, and in the spring, Prince Harry skipped a royal Easter event to fly to Canada to see Markle.
Therefore, it is no secret they are together. In fact, Meghan Markle recently gave a magazine interview and revealed aspects of her relationship with Prince Harry. The discussion seemed harmless, but now there are rumors senior royal consultants disapproved of the interview. (They say she spoke too openly by calling Prince Harry her boyfriend and saying they are in love.)
But this is a new age for the royal family. Prince Harry, Prince William, and Princess Catherine break from convention when protocol does not align with modern times. Meghan Markle's approach to the interview might not have fit traditional etiquette, but it came across as lovely and warm. In fact, Markle seemed to talk about the relationship to hint that she and Prince Harry want space for their romance to blossom. Making a public appearance together might fly in the face of that request, but it also could quell the storm of questions. Now that Markle has talked about the relationship, why not attend an event as a couple?
Still, even people like Paul Burrell, Princess Diana's former aide, suggest Markle spoke out of turn. Burrell talked about the matter with Closer magazine (which, oddly, is the publication Prince William and Princess Catherine successfully sued this year over the publication of topless photos). Burrell said,
Regardless, Meghan Markle said she knew the time would come when she and Prince Harry would have to present their relationship and tell their story. While the presentation part might happen this month at the Invictus Games, the storytelling aspect can wait, and that seems fair.
Your Daily Blend of Entertainment News