Prince William And Princess Kate Are Having A Third Baby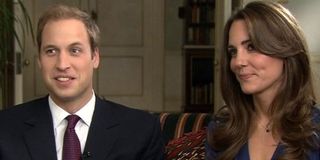 Prince William and Princess Catherine (i.e., Kate Middleton) shared joyful news today. Apparently, the stork will be paying a third visit to Kensington Palace, as the Duke and Duchess of Cambridge are expecting another little one. The royal family announced the exciting news, noting,
How exciting! Prince William and Princess Kate have a four-year-old son, Prince George, and a two-year-old daughter, Princess Charlotte. The news has us thrilled, so those two adorable children must be over the moon about the prospect of another brother or sister. From the sounds of it, the princess is about two months pregnant, so the new addition should arrive sometime early next year. If you haven't seen the young royals, recently, here's a photo from a recent trip the family took.
Kensington Palace is also explaining that Princess Catherine has been suffering from Hyperemesis Gravidarum--also known as very acute morning sickness. Kate Middleton experienced the same malady during her two previous pregnancies. The condition requires extra hydration, medication, and rest. Because the princess is, indeed, having the symptoms yet again, she had to pull out of at least one scheduled engagement this week.
Supposedly, Princess Catherine might have suggested that she was pregnant about two months ago when she and her husband took a trip to Poland and Germany. People reports that someone gave her a gift for a baby, maybe thinking it would go to Princess Charlotte, who is now a toddler. Upon receiving the surprising present, Kate Middleton could be heard joking about having more babies.
Also, reporters apparently caught up with Prince Harry and asked him how he felt about the news of the third child. The royal uncle allegedly expressed words of excitement about the news and said he is "very happy for them." As of yet, Prince Harry does not have kids of his own, but rumor has it that he and his Hollywood girlfriend, Meghan Markle, are the real deal and could be headed toward the next step in their relationship. After all, Markle attended Pippa Middleton's wedding in May as Prince Harry's plus one, and it was a big deal, to say the least. So, maybe Prince George, Princess Charlotte, and their new little brother or sister will have cousins one day.
But for now, all eyes are on the Duke and Duchess of Cambridge. It will be a thrill to speculate about the baby. What will the gender be? What name will Mom and Dad choose? Perhaps if they have a girl, they can incorporate the name Diana into the mix.
Your Daily Blend of Entertainment News