Lin-Manuel Miranda Is Returning To Hamilton, Here's How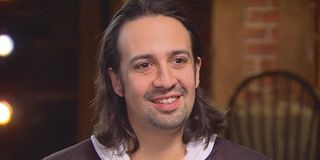 Acclaimed actor, composer, and songwriter Lin-Manuel Miranda has announced he will reprise the lead role of Alexander Hamilton in the award-winning Hamilton: An American Musical, the show for which he wrote the book and lyrics. The prolific 37-year-old artist plans to take the show on the road in January 2019 to Puerto Rico, a place in dire need of good news at the moment. There, Miranda and the Hamilton cast will perform the show for a three-week run. According to Miranda, he and the Hamilton team decided to help Puerto Rico by giving its citizens something to look forward to with future show dates. Furthermore, he wanted to confirm his faith in Puerto Rico's resilience after the U.S. territory faced down Hurricane Maria. Miranda explained,
This year has been awful for Puerto Ricans grappling with the aftermath of Hurricane Maria, which swept across the island between September and October and left a trail of ruin in its wake. Lin-Manuel Miranda's decision to reprise his role there underscores the confidence he and the Hamilton cast feel regarding Puerto Rico's ability to move forward. It also serves as a beautiful gesture of compassion for people dealing with the day-to-day struggles there at this very moment. The announcement, via The New York Times, indicates Miranda and the cast have dedicated themselves to seeing Puerto Rico rise up from its darkest hour.
At the same time, Lin-Manuel Miranda's explanation of his decision to take Hamilton to Puerto Rico makes it clear he had wanted to take the show there anyway, because of his love for the beautiful Caribbean island. In the announcement, Miranda said it was "a dream" he had been pursuing since the show started its run at The Public Theater nearly three years ago. But upon seeing the destruction of the hurricane, he knew he had to hasten his decision.
Lin-Manuel Miranda previously starred as the ill-fated founding father in Hamilton in 2015, when the production first soared to astronomical success and swept the Tony Awards. Before then, Miranda got his big start as the brilliant mind and star behind Broadway's In The Heights in 2008. Since then, his accomplishments have expanded with work on projects like Bring It On The Musical and Disney's Moana. Speaking of Disney, Miranda is signed on to star in the company's upcoming Mary Poppins Returns. His accolades include three Tony Awards, two Grammy Awards, and even a Pulitzer Prize. Plus, he wins best news story for today, because his compassionate announcement is lovely.
Your Daily Blend of Entertainment News