Lin-Manuel Miranda Plans To Play Hamilton One More Time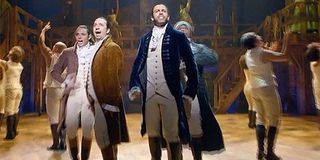 He'll be back, like before! Lin-Manuel Miranda has promised that he will return to the lead role of Alexander Hamilton in his hit musical Hamilton in the near future, but for one night only.
It's been just over six months since Lin-Manuel Miranda last performed in the role that he made famous (and made him famous) in his hip-hop-inspired, historical show, but it looks like the playwright and actor has one more performance left in him! Miranda tweeted that he will take to the stage as Alexander Hamilton one last time in Chicago later this year for a very special audience member: longtime political prisoner Oscar Rivera.
President Barack Obama announced on Tuesday that he had commuted Oscar Rivera's prison sentence after the Puerto Rican nationalist had spent the last 35 years in U.S. prison, and Rivera is now scheduled for release on May 17 of this year. Lin-Manuel Miranda, whose Puerto Rican heritage has heavily influenced his life and his art, expressed his joy at the presidential decree via Twitter. He went on to address New York City councilwoman Melissa Mark-Viverito, whom has visited Rivera in prison on numerous occasions to worked to get him out, asking her to tell Rivera that he will be happy to reprise his Hamilton role any night that Rivera is able to attend the Chicago show.
Since Oscar Rivera isn't scheduled for release until halfway through May, he has quite a bit of time to decide on the best night to take in a show. Unfortunately, he will miss Wayne Brady's stint playing antagonist Aaron Burr in the Chicago production, as he's scheduled to conclude his run on April 9. But seeing Lin-Manuel Miranda as Alexander Hamilton live is really the dream of any diehard Hamilton fan, and one the became increasingly difficult as the musical erupted into a national juggernaut last year and tickets sold out in minutes. Now, every principal member of the original Broadway cast has moved on from the show, which makes Miranda's return to it (and in Chicago rather than New York), all the more exciting.
Hamilton began its Chicago production just a few months ago in October of 2016. The smash musical is also about to begin its first touring production in March, and will open in London on the West End before the end of 2017.
Of course, Oscar Rivera is going to be seeing the best show of all. I have a feeling "Wait For It" is particularly going to resonate with him.
Your Daily Blend of Entertainment News
Your Daily Blend of Entertainment News
Thank you for signing up to CinemaBlend. You will receive a verification email shortly.
There was a problem. Please refresh the page and try again.