How Taylor Swift Probably Called Out Kanye And Kim Kardashian In Her New Album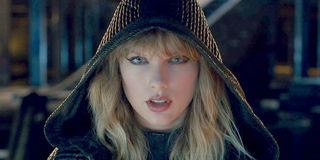 If lyrics from Taylor Swift's new album Reputation are evidence, the 27-year-old pop star may not be near resolving her grudge toward Kanye West and Kim Kardashian. Swift's fans already got a bit of a hint she might go in the counterinsurgency direction when she released "Look What You Made Me Do," the album's first single. The lyrics to the song and the imagery from its music video seemed to call out West and Kardashian in addition to other celebrities with whom Swift has had a rough go. But now we have the full album, and there is little doubt who in Hollywood irritates Swift most.
For example, on "This Is Why We Can't Have Nice Things," Taylor Swift seems to call out Kanye West for making nice with her for a short time only to drop her like a drumbeat when it served him to do so. Swift sings,
It could go further. In fact, ET has also suggested Taylor Swift indirectly calls out Kim Kardashian when she sings,
Plus, Taylor Swift could be going so far as to bring up how Kanye West has made headlines for allegedly losing friendships with other celebrities like Beyonce and Jay-Z. Swift sings,
Similarly, on "I Did Something Bad," Taylor Swift brings up her disdain for self-centered qualities in men. The lyrics seem to reference a romantic relationship, but they still show how narcissistic people affected the singer-songwriter and her current lyrical direction. On the track, Swift sings,
Taylor Swift began grappling with male chauvinists long before she recently appeared in court and won a case against a radio DJ who groped her at a meet-and-greet. Of course, the most notable moment many people recall happened when Kanye West hijacked her acceptance speech at the 2009 MTV VMA and said the award should have gone to Beyonce, not Swift. West did apologize, and Swift appeared to forgive him for what happened. They even became friendly for a while. In fact, when West received the Video Vanguard Award at the 2015 MTV VMA, Swift presented the honor to him. He reportedly even sent her flowers in response.
However, within months, the drama was back after West referred to Taylor Swift in the line "I made that bitch famous" of his song "Famous" and said he "might still have sex" her one day. Swift insisted she was angry about the content of the song, but then there a recording of an infamous phone call between Swift and West made it seem like the two had colluded on the controversy. Kim Kardashian had Mean Girls-style recorded the phone call and later posted it on social media when. Afterward, many of Kardashian's and West's fans on social media hopped over to Swift's profiles and inundated them with snake emoji.
These days, Kanye West and Kim Kardashian seem to have moved on to other important issues. They are getting ready to welcome a third baby via surrogacy. Kardashian has a new cosmetics company and fragrance, too. They seem pretty occupied. Taylor Swift, on the other hand, appears to be holding on to this narrative, one she previously said she wanted to escape.
There's always the chance the singer is talking about someone else. Either way, hopefully, the lyrics on Reputation serve as a catharsis for Taylor Swift. Maybe her next album will contain more self-deprecating fun, a la Miley Cyrus' latest efforts. After all, Swift went the reflection route with "Blank Space" back in 2015, and that track was huge for her. She even channeled a bit of that version of herself the other day when she appeared on Saturday Night Live. Thus, we know the "old Taylor" is in there, even if the singer said "she's dead" on "LWYMMD."
Your Daily Blend of Entertainment News
Thank you for signing up to CinemaBlend. You will receive a verification email shortly.
There was a problem. Please refresh the page and try again.