Blac Chyna Is Dropping Her Charges Against The Kardashians, Just Not All Of Them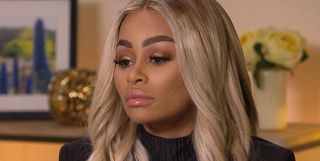 New reports say Blac Chyna has adjusted her sights in a lawsuit she opened last month against many of the Keeping Up with the Kardashians family members. The 29-year-old former reality television personality initially blamed the entire family for the demise of her short-lived E! show, Rob & Chyna. However, Chyna now has removed everyone except for Rob Kardashian, Kris Jenner, and Kim Kardashian from the suit. Here is what we know.
Last month, Blac Chyna took out the lawsuit against several KUWTK personalities; she received help from celebrity attorney and women's advocate Lisa Bloom. But now Chyna has removed Kourtney Kardashian, Khloe Kardashian, Kendall Jenner, and Kylie Jenner. It is not clear why they ever were part of the lawsuit, nor do we know why Chyna had a change of heart and removed them. However, TMZ says Chyna listed 1--100 defendants in the fine print, which suggests she could add them again in the future.
Suffice to say the KUWTK family is not pleased. After Blac Chyna took out the lawsuit last month, a source told Us Weekly the family is "not concerned" and wants "to stay out" of the drama. The family feels "stuck with Chyna" and, more importantly, "disappointed" because Chyna's actions could have a negative impact on Dream Kardashian, Chyna's one-year-old daughter with Rob Kardashian.
Without knowing all the details, one might think the lawsuit sounds goofy. After all, how can you film another season of a show called Rob & Chyna if half of that duo no longer wants to be part of the show (or the relationship)? Regardless, Chyna's new focus could make more sense, as Rob Kardashian would have been the other key member of the show, and Kris Jenner would have been the manager calling the shots for him. Lisa Bloom gave some additional insight into what they wanted when she said,
Nevertheless, it remains unclear why Blac Chyna is still going after Kim Kardashian. Some entertainment news outlets think Chyna has her eye on Kardashian's large bank account. But others say Chyna is considering Kardashian's influence at E!. After all, KUWTK has always been a platform for Kim Kardashian since it started in 2007. Perhaps Chyna believes Kim Kardashian has as much sway as Kris Jenner.
Coincidentally, Kim Kardashian is one of the KUWTK family members striving not to make disparaging remarks about Blac Chyna. For example, when Jennifer Lawrence filled in for Jimmy Kimmel, she interviewed Kardashian and asked her thoughts on Chyna, and surprisingly, Mrs. Kanye West refused to speak poorly of her. Mind you, Kardashian did not say loving things, but did take the high road by not leaning into what could have been a chance to talk smack. Instead, Kardashian told J. Law,
Jennifer Lawrence told Kim Kardashian she understood and then quickly shifted the subject. So, the fact Blac Chyna is still coming after Kardashian seems not to align with what we see on TV-- perhaps other issues are at play behind the scenes. We'll have to stay tuned to see how things play out in this lawsuit and the others Chyna has been cooking up in her scorched earth efforts against Rob Kardashian and his family.
Your Daily Blend of Entertainment News