How Much Rob Kardashian Will Have To Pay In Child Support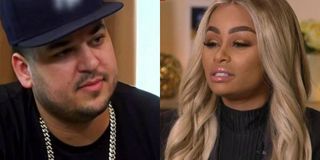 Last week, Rob Kardashian and Blac Chyna reached an agreement in the child custody battle over their one-year-old daughter, Dream Kardashian. Now some of the terms of the deal have surfaced. It looks like Chyna will get a hefty payday. Apparently, Kardashian and Chyna will share custody of their daughter, and Kardashian will pay Chyna $20,000 per month for child support. Additionally, Chyna dropped the domestic violence allegations she made against Kardashian this summer.
The news from Daily Mail that Rob Kardashian has to shell out $240,000 per year in child support is the latest bit of drama in his months-long feud with Blac Chyna. In happier times, Kardashian and Chyna burned hot and fast as a couple. They got engaged. They had Dream Kardashian together. They even did their own Keeping Up with the Kardashians spinoff. But everything came to a roaring halt in November when Kardashian announced Chyna had taken their newborn daughter and left him.
Then the animosity reached its boiling point this summer when Rob Kardashian posted graphic images of Blac Chyna across his social media accounts and published disparaging messages about her. In response, Chyna went on social media and accused Kardashian of physically abusing her during their relationship.
Afterward, reports said Rob Kardashian cut off Blac Chyna's financial ties to him and his famous family. However, subsequent reports said Chyna was not hurting for money. She claimed to have plenty of savings from various ventures, including the short-lived reality television program she and Kardashian had before their relationship took a nosedive. Perhaps to prove this point, Chyna went out and purchased a new 2017 Ferrari 488 Spider with custom wheels. (Meanwhile, Kardashian went into a social media blackout.)
As for the domestic abuse comments, it sounds like Blac Chyna tucked them away for now because Rob Kardashian cooperated. On Friday, Chyna's celebrity attorney, Lisa Bloom (who recently helped Kathy Griffin do damage control), stated Chyna was pleased with the arrangement. Bloom told People,
Still, the situation is far from over. Recent reports said the Los Angeles County Department of Children and Family Services (DCFS) was monitoring the situation between Rob Kardashian and Blac Chyna. In fact, DCFS supposedly began keeping an eye on matters even while the two former reality television personalities were an item. The agency apparently gave a judge evidence to review to determine the safety of Dream Kardashian and, possibly, her four-year-old half-brother, King Stevenson, Chyna's son with Tyga. Thus, while it is promising to hear that Kardashian and Chyna reached an agreement, there is no word how DCFS's investigation and the judge's ruling might affect matters for Kardashian, Chyna, and the kids.
Regardless, it's good Rob Kardashian and Blac Chyna cooperated. The drama in this split is a lot to process, and with these two, nobody is waiting for a Gwyneth Paltrow-style thinkpiece about making it work in a conscious uncoupling. We'll take what we can get.
Your Daily Blend of Entertainment News