Did Pink Really Diss Christina Aguilera At The AMAs? The Singer Has A Tweet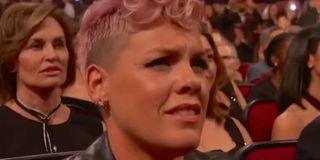 Over the weekend social media was abuzz with talk of Christina Aguilera performing a tribute to Whitney Houston during the 2017 American Music Awards. Throughout the performance, the camera scanned the audience and found Pink, Aguilera's friend (and former frenemy). The first time the camera caught Pink, we saw a facial expression that revealed happiness but could have been misconstrued to show Pink cringing as if a bee were stinging her (or as if she hated Aguilera's medley). Social media users weighed in. Did Pink throw shade at Aguilera, or did the performance move her? Pink had the final word:
There you have it. Pink adored the Christina Aguilera tribute to Whitney Houston. Some social media haters tried to tear down the performance, but Pink was not among them. Pink did not need to explain her perspective on Twitter, but it is good she did. She has said several times the feud between her and Aguilera is old news. The two now are career compadres and even collaborated on a new song. Besides, Pink had more critical issues to worry about, such as the duet she sang with Kelly Clarkson and the aerial-acrobatics performance she gave while dancing on the side of a 34-floor skyscraper.
Regardless, Pink recently expressed disliking stories about women feuding, so it is great she killed this controversy. She and Christina Aguilera now are friends, so it was good to see her give Xtina support during her moment. Speaking of which, Aguilera was on an emotional high after the tribute, in which she sang Whitney Houston's "I Will Always Love You," "I Have Nothing," "Run To You," and "I'm Every Woman." The critics on social media did not faze the "Fighter" singer. Instead, Aguilera tweeted love for the AMAs, the audience, and Whitney Houston:
Yes, the look Pink gave could be taken out of context with screenshots to make it seem like she was grimacing. However, if you watch the entire medley, you see the camera scan by Pink several times. Each time, Pink appeared more and more into the performance before she joined the rest of the audience in giving Christina Aguilera a standing ovation. Watch in full here:
Last month, Pink talked about how she and Christina Aguilera buried the hatchet and put their feud behind them. She told Andy Cohen things were not always amicable, and Aguilera once tried to start a physical brawl with her at a nightclub. But that was in the early 2000s. Over the years, Pink and Aguilera developed a mutual appreciation for each other, especially when they both became moms.
Earlier this year, Pink and Aguilera worked together on The Voice. Pink cited that particular moment as a huge turning point. Pink said she and Aguilera had come full circle from their early days when they were beefing behind the scenes while outwardly pretending to get along to promote "Lady Marmalade" with Lil' Kim and Mya for the Moulin Rouge soundtrack.
Here's hoping we see more celebrities respond in timely ways when purported controversies pop up. It says a lot about Pink's character that she quickly put the kibosh on it. The fact she and Christina Aguilera have come so far is terrific.
Your Daily Blend of Entertainment News
Your Daily Blend of Entertainment News
Thank you for signing up to CinemaBlend. You will receive a verification email shortly.
There was a problem. Please refresh the page and try again.