Christmas Is Coming To The Wizarding World Of Harry Potter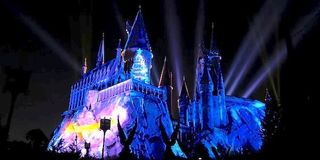 This holiday season, Harry Potter fans have a festive reason to pay a visit to Universal Studios in California and Florida. A new event called Christmas in The Wizarding World of Harry Potter will be at the Hogwarts School of Witchcraft and Wizardry in both locations through the holidays. One highlight is a beautiful digital-light projection display called The Magic of Christmas at Hogwarts Castle, and it looks marvelous. Universal Studios recently unveiled a commercial to give audiences a sneak peek. Take a look:
The commercial makes Christmas in The Wizarding World of Harry Potter look like a holiday dream come true. The event lets guests get close to images inspired by the Harry Potter books and films. The digital-light projection display includes wintry ghosts singing carols in the Christmas spirit. The show also portrays falling snow, indeed a magical occurrence for Florida and southern California. The illuminated snowfall leads to a display of dancing lanterns. There also are magical delivery owls, a signature touch of the Harry Potter books and films.
Three-dimensional Hogwarts students fly on broomsticks, and they use spells and wands to bring 3-D snowmen to life. At one point, the display makes the castle turn to ice, before it simulates sparks that encompass the castle until it appears lit from inside with extravagant Christmas trees. Eventually, real fireworks fly upward and illuminate the nighttime sky. The spectacular looks gorgeous in social media videos, so it undoubtedly is a special sight to behold in real life.
Christmas in The Wizarding World of Harry Potter has fun touches everywhere. For example, there is a caroling a cappella Frog Choir of Hogwarts students, with frogs that perform holiday songs. Then the Three Broomsticks restaurants in both locations have holiday dishes. Of course, the seasonal (and Harry Potter) favorite--hot Butterbeer--will be available for people to try. Plus, guests can get a proper holiday dinner with roast turkey and gravy this year.
Harry Potter Christmas tree ornaments and toppers, Harry Potter stockings, and Hogwarts castle snow globes are among the products at the numerous stores around Hogsmeade Station and Diagon Alley (and the Universal Studio Store). Many of the products come in the unique colors of the Hogwarts School of Witchcraft and Wizardry houses: Gryffindor, Ravenclaw, Hufflepuff, and Slytherin.
People can purchase Harry Potter-themed winterwear, such as gloves, hats, and (of course) scarves. There are Hogwarts Railways and Hogwarts Express trains for visitors to see too, and you can also find the product I want most, the Hogwarts Railways one-way-ticket Christmas tree ornaments. There are even new Harry Potter wands for people working on their wand collection; the new wands include the Cedric Diggory, the Cho Chang, the Yaxley and the new Death Eater.
The event began on November 18 at the Universal Orlando Resort. It will start on November 24 at Universal Studios Hollywood. The festivities end on January 6 in Orlando and January 7 in Hollywood, so Harry Potter fans should get moving to check out this limited-time event. All in all, this holiday festivity sounds delightful. If you plan on going, you can find additional event details at the official Universal Studios Hollywood theme park site. After your magical holiday adventure in Hogwarts, stop back here and let us know about your experience in the comments.
Your Daily Blend of Entertainment News
Thank you for signing up to CinemaBlend. You will receive a verification email shortly.
There was a problem. Please refresh the page and try again.