Ancient Tomb Of Santa Claus May Have Been Found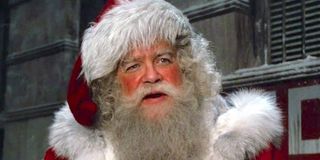 Archaeologists in Turkey believe they have located the real tomb of Saint Nicholas, whom many people in modern times call Santa Claus. The finding comes as a surprise for Catholic and Orthodox Christian historians who long believed the saint's remains were stolen from a Turkish church and relocated to a basilica in Italy.
According to legend, Saint Nicholas was interred in a tomb under Saint Nicholas Church in Demre, a region of Turkey's Antalya province. The saint had lived in that region, which at the time was called Myra. After his death, there was an earthquake and a fire that damaged the church. Stories said Italian merchants swooped in during the church's reconstruction and stole the saint's remains from his sarcophagus during the first crusade in 1087. They then put the bones in the Basilica of Saint Nicholas in Bari, Italy.
Now findings by researcher Cemil Karabayram and archaeologists at Antalya's Monument Authority point out holes in this tale. Karabayram said he and his team did surveys of the church. They found documents suggesting the looted tomb belonged to a local priest, not Saint Nicholas.
Moreover, the team's research indicated the saint's remains might still be hiding somewhere in the Turkish church. However, it might be hard to get to them because there is an ornate mosaic of tiles on the church floor and they would have to carefully remove each tile, one by one, to get there. Karabayram told The Daily Sabah,
Saint Nicholas was a bishop in Asia Minor in the third and fourth century. He became famous for his generosity, especially when it came to giving gifts to kids. Legends about him grew into stories about the "Sinterklaas" in the Netherlands. These transformed into tales about a "Santa Claus" or "Father Christmas," who brought gifts to children to celebrate the birth of Jesus Christ. Santa Claus is a character known around the world, so the location of Saint Nicholas' tomb matters to many people.
Accordingly, a group from the Demre wrote to Pope Francis a few years ago and asked him to bring the remains of Saint Nicholas back to Turkey from Italy. There might have been some financial incentive for the Turkish church, which promotes itself as a tourist attraction. Thus, if Saint Nicholas' remains are still there, the church could turn up tourism another notch.
After all, tourism currently helps the Basilica of Saint Nicholas in Bari, Italy. For example, on December 6 each year, people go to the church because the clergy there collects a liquid that leaks from the supposed tomb of Saint Nicholas, and they say the liquid has powers.
This story reminds me of the movie Rare Exports, in which a Finnish drilling company discovers the tomb of an evil Santa Claus. It also sounds like a plot point for a holiday Indiana Jones film or an intense version of Miracle on 34th Street. It will be fascinating to see what the researchers find in the end.
Your Daily Blend of Entertainment News
Thank you for signing up to CinemaBlend. You will receive a verification email shortly.
There was a problem. Please refresh the page and try again.