A Ton Of Celebrities Had To Evacuate The California Wildfires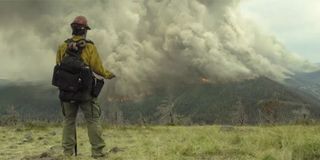 More than 200,000 people from Southern California have had to flee their homes since the terrifying wildfires began blazing across the region this month. While a lot of those people are civilians, it turns out many people put out of their homes and workplaces are celebrities. Some of the stars affected by the natural disaster have used social media presences to express their thoughts and prayers.
For example, Chrissy Teigen, who recently was tweeting about getting ready to welcome her second child with John Legend, posted on Twitter about how she had evacuated her home with her daughter, Luna. She wrote,
Similarly, Lea Michele had to flee with only the essentials. The former Glee star tweeted thanks to the people helping her during her time of need and said,
Speaking of fleeing and needing somewhere safe to stay, actress Jennifer Tilly tweeted how she had been to a handful of hotels before finding one with a room. Tilly wrote that she had been to three hotels before finding one with a room for her. But one look at the Twitter video Paris Hilton uploaded and you can totally see why Tilly might have been finding it hard to find a place to rest. Hilton's video looks absolutely horrendous. Take a look:
The news about the wildfires is awful. Last week, many homes in Bel Air burned to the ground. Homes of celebrities like Jeff Bridges, Rob Lowe, and Oprah Winfrey fell victim to the wildfire in the neighborhood of Montecito. In fact, Winfrey tweeted out words of peace and prayerfulness.
Similarly, Ellen DeGeneres and Portia De Rossi escaped from their estate while the wildfire blazed nearby. DeGeneres tweeted that she had evacuated her pets from the premises. She expressed prayers for the community and gratitude for the firefighters. The comedian also mentioned how the disaster seemed to be bringing people in the Montecito area together. Chelsea Handler tweeted about how she had evacuated her home, and how she felt like the world was in "dark times." Then Lisa Rinna tweeted that she had left with what she could take (which was her child, pets, photos, documents, and extra items like jewelry and clothes).
The disaster has been blazing for days as fire officials and crews try to get it under control. The Santa Ana wind fuels the fire, and the lack of rain in California only adds to the problem. In some regions, like Ojai, officials have warned about unhealthy smoke and toxins in the air. In fact, the South Coast Air Quality Management District made a statement and said people should stay indoors at all times if possible to avoid breathing in toxins. The news coming in from SoCal is devastating and scary. Hopefully, everyone--not just the celebs--can find safety elsewhere.
Your Daily Blend of Entertainment News
Your Daily Blend of Entertainment News
Thank you for signing up to CinemaBlend. You will receive a verification email shortly.
There was a problem. Please refresh the page and try again.