Why Chrissy Teigen Cut Back On Drinking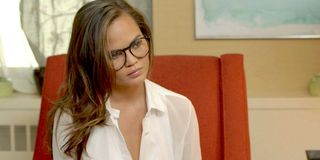 It seems Chrissy Teigen is at a turning point. In a recent interview, the 31-year-old model and host of Lip Sync Battle revealed she is cutting out alcohol (or at least cutting back on it) in order to improve her confidence and health. Teigen intimated that alcohol was at the root of embarrassing moments from her past, and now she is ready to close that chapter. She elaborated, saying,
In a recent interview, Chrissy Teigen revealed several great reasons she considers when she thinks about not drinking alcohol anymore. First, she said there is a history of alcohol abuse in her family. Secondly, Teigen explained to Cosmopolitan that she "can't just have one drink."
Plus, Chrissy Teigen brought up the fact that she takes medication to help her with postpartum depression, and she knows "alcohol is, like, the least thing that helps." Furthermore, Teigen mentioned that she and her Grammy Award-winning husband, John Legend, might want to have another child, so not drinking would be important in that area.
At the same time, Chrissy Teigen talked about how difficult it can be to attend events where there is endless alcohol on hand. She has, after all, been a spokesperson for liquor companies like Captain Morgan and Smirnoff. Moreover, she and John Legend go to dozens of awards shows and parties where adult beverages runneth over.
Still, Chrissy Teigen gave the interview at a boozy brunch where she chose not to have any alcohol. She indicated it had been a while since her last alcoholic drink, and she explained her newfound sobriety came from taking a hard look at her personal behaviors. She said,
Chrissy Teigen made it clear that she had noticed positive changes since she put a cork in her drinking behaviors. For example, Teigen talked about having a great experience during a dry vacation in Bali, Indonesia. She reported that she ate well and worked out, and the overall experience of the dry holiday was "really, really wonderful."
Chrissy Teigen and John Legend often take vacations that give us travel goals, so it says a lot that Teigen felt like her trip abroad was wonderful without alcohol. In movies, we often see people having a fabulous time in a posh place while sipping on a fancy drink. However, for someone who wants to cut back, it can be tough to go to locations like Bali, where opportunities to drink are around the corner. So, kudos to Teigen for trying the dry vacation and finding out sobriety works for her.
Your Daily Blend of Entertainment News
Your Daily Blend of Entertainment News
Thank you for signing up to CinemaBlend. You will receive a verification email shortly.
There was a problem. Please refresh the page and try again.