Andy Cohen And One Of The Housewives Are Being Sued For $30 Million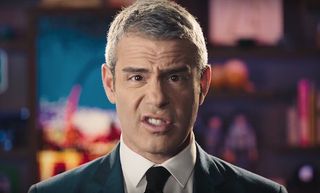 Bravo producer Andy Cohen has landed in hot water, along with a cast member of The Real Housewives of New Jersey, a RHONJ executive, and NBC Universal. Jackie Beard Robinson, RHONJ personality Melissa Gorga's former business partner, is suing for malicious defamation and intentional infliction of emotional distress-- and she wants $30 million. Here is what we know.
According to Jackie Beard Robinson, Melissa Gorga talked about Robinson during an interview on Watch What Happens Live. However, Robinson evidently thought Gorga's statements twisted the truth, particularly concerning an incident that occurred at Envy, a New Jersey clothing store she and Gorga ran between 2014 and 2016.
Jackie Beard Robinson supposedly thought Melissa Gorga's description made her sound like a felon, so says Page Six. For this reason, Robinson decided to take legal action against not only Gorga but also Andy Cohen and Dorothy Toran, a RHONJ executive. Robinson also named NBC Universal as well.
As the story goes, Melissa Gorga and Jackie Beard Robinson met in early 2014 and decided to open up Envy, a retail store in Montclair, New Jersey. However, the professional partnership turned sour. In the legal documents, Robinson claimed Gorga was "misappropriating over $37,000 from Envy without authorization," so Robinson went to the store in "broad daylight" on January 1 of this year to collect her belongings.
However, Jackie Beard Robinson alleged Melissa Gorga later told Andy Cohen a different story about the final days. Apparently, Gorga said Robinson "snuck into Envy in the middle of the night and stole clothing." Cohen then asked,
Melissa Gorga fortified Andy Cohen's suggestion and said, "Yes," which Jackie Beard Robinson said damaged her reputation as "an entrepreneur," "international fashion influencer," "blogger and style consultant." Thus, Robinson decided to seek damages to the tune of $30 million.
Next, Jackie Beard Robinson and her attorney, Larry Klayman, filed a complaint with the U.S. District Court for the Southern District of Florida, where Robinson is a resident. Klayman and Robinson allege Andy Cohen, Melissa Gorga, and Dorothy Toran acted in concert to defame Robinson. Evidently, Florida law might make it so that Klayman and Robinson will not have to prove damages, yet PR Newswire says defamation of this type, regarding a person's work and suggesting the person committed a crime, is the worst libel or slander offense. Klayman backed up that assertion in a statement to People and said,
So far, Melissa Gorga has not spoken about the lawsuit, and her people did not respond to entertainment news outlets that reached out with questions. However, a Bravo network spokesperson said, "there is no merit to this lawsuit."
We'll have to see how the lawsuit shapes up. From the sounds of it, this case could get messy, so we'll be here with the details.
Your Daily Blend of Entertainment News
Thank you for signing up to CinemaBlend. You will receive a verification email shortly.
There was a problem. Please refresh the page and try again.