Sam Smith Weighs In On Kim Kardashian And Taylor Swift Drama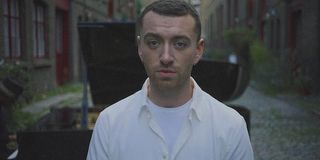 Andy Cohen recently got Sam Smith to spill the beans on whether he takes Kim Kardashian's side or Taylor Swift's side in the celebrity feud that Swift dished about in the lyrics of her latest album, Reputation. Cohen set up his question by saying Smith is friendly with both Kardashian and Swift, and then he asked whose side Smith took. (Shady!) Smith refused to take the bait at first, but eventually he divulged that he had a better relationship with Kardashian than Swift. Furthermore, he indicated the whole feud seemed like hogwash.
During the Plead the Fifth segment of Watch What Happens Live with Andy Cohen, Sam Smith skirted the question by saying he is not, in fact, great friends with Taylor Swift. He said he "doesn't know Taylor Swift too well" and feels a closer kinship with Kim Kardashian. When Cohen asked if that meant Smith took Kardashian's side in the feud, Smith said,
Hmm. Nice work, Sam Smith- way to get around the question. But maybe the "Too Good at Goodbyes" singer is correct. In a story about two Hollywood celebrities who have gained from having their feud make headlines, it is important to remember how both parties benefit from the idea that they do not get along. Even if there legitimately is bad blood, the bottom line is that Kim Kardashian and Taylor Swift have helped each other by supposedly disliking each other.
At the same time, most reports covering Kim Kardashian's take of the feud with Taylor Swift suggest the Keeping Up with the Kardashians star has long since moved on from the narrative Swift previously asked not to join. Kardashian is about to become a mom for the third time, and she fell victim to a terrifying robbery at gunpoint that changed her perspective. Her siblings are getting to have babies, and there is a ton of other drama happening over there in KUWTK land, too. Meanwhile, Swift blasted Kardashian and her rapper husband, Kanye West, on her latest album. But at this point, the story is stale.
The feud in question kicked off in 2015 when Kim Kardashian used social media to upload recordings of Kanye West talking to Taylor Swift. The talk turned to whether Swift would mind if West could use provocative lyrics about her in a song. Listening to the recordings, one could get the sense Swift and West had colluded on the drama about the lyrics, which ended up appearing on his track "Famous."
Taylor Swift laid into Kanye West when she heard the provocative lyrics, so Kim Kardashian responded by uploading the recordings. Suddenly, the tables turned on Swift, and many of Kardashian and West's social media fans and followers jumped over to Swift's social media platforms to denounce her as a snake.
Regardless, that was more than two years ago, so it is good of Sam Smith to say there are no teams in the situation. He seems to be on board with sentiments expressed by other pop stars, such as P!nk, who recently backtracked previous comments she made about the feud between Taylor Swift and Katy Perry. Essentially P!nk said there is not enough time for women in Hollywood to be so angry at one another, and she even talked about how she had made amends with her Tinseltown frenemy, Christina Aguilera.
It is worth noting Sam Smith also pleaded the fifth on the first question of the segment. Andy Cohen had brought up a story about Smith saying how not all of the pop stars whom he had met were great people. Cohen pressed Smith to name names, but Smith opted out. Wise move. You can watch the segment in full here:
Imagine if Sam Smith had actually named names and took sides. How awful would that be? In this day and age, it's important for people to stand up for one another when possible, so it is a good thing Smith decided not to be (vocally) shady (though his gestures told an interesting story, too).
Your Daily Blend of Entertainment News