Benedict Cumberbatch Is Annoyed At Some Of His Fans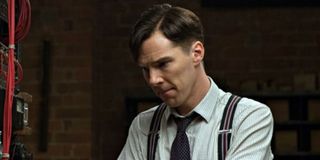 When you've reached the celebrity status of Benedict Cumberbatch it becomes a bit difficult getting any time out of the spotlight. And for the Sherlock star, who has such a serious fandom that they've even given themselves a name (Cumberbitches), good luck even trying. But the problem comes when a celebrity of that status actually takes his career very seriously. So as Cumberbatch takes center stage in the London production of William Shakespeare's Hamlet, he is starting to get increasingly annoyed with his obsessive fans who do not understand theater etiquette.
Cumberbatch made his debut at London's Barbican theater this past Wednesday as Hamlet. His performance has received mixed reviews from critics, but the overall experience has been less than enjoyable for the actor. After his performance on Saturday night, Cumberbatch was annoyed, a quality you don't often see in the actor. When he left the outside stage door, fans were gathered awaiting his exit and he took the opportunity for a PSA. But of course, in Cumberbatch fashion it was still extremely gracious and kind, even though by the language used, you can tell he was not pleased with certain fans.
The YouTube video was ironically captured by a filming fan. Obviously with a name like Cumberbatch attached, the play has become one of the most popular productions in recent years. Tickets were sold out within minutes of their release this year and we can't imagine them being cheap. We understand the excitement of seeing a big celebrity on stage. But get excited to be one of the few people getting a live taste of Cumberbatch's acting chops. There's absolutely no reason for cameras in that setting and clearly Cumberbatch felt a bit disrespected at the notion.
Cumberbatch is certainly not the first actor to criticize fans for use of mobile phones and recording devices during a performance, and unfortunately in our time of social media and technology, he probably won't be the last. But if we all remember theater etiquette (in movie theaters too people) it will make for a more enjoyable experience for all.
Your Daily Blend of Entertainment News
Thank you for signing up to CinemaBlend. You will receive a verification email shortly.
There was a problem. Please refresh the page and try again.