Dad Builds 23 Foot Death Star On House For His Kids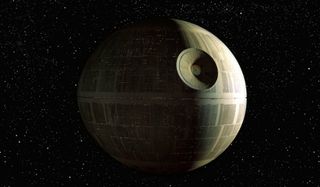 The Death Star has captured our collective imagination ever since George Lucas first brought it to the big screen with Star Wars in 1977. Able to destroy a planet in a single blast, the behemoth station epitomized silver screen villainy for an entire generation. Now, with a little crafty know-how, one dad has been able to create the iconic war ship on the roof of his house. Check out the video below and see for yourself:
The video above chronicles the construction process; Colby Powell of Lafayette, California created the replica out of PVC pip and parachute canvas for his kids to enjoy. By the end of the process the replica stood at an imposing 23 feet tall; not quite the size of the actual Death Star but you get the idea. As if the act of building a giant Death Star on top of his house was not cool enough, Dad went one further.
At night, the Death Star lights up in a way that would make Clark Griswold's jaw drop with jealousy. Based purely off of that video, Powell will henceforth be known as the coolest dad in America – if not the entire world. Judging by the pictures in the video, the entire construction process was a family affair, once again reaffirming the ability Star Wars has to bring people together in a positive way.
The Internet has allowed adorable acts to go viral in an instant; acts of kindness that would normally go minimally noticed can now be put online for the whole world to collectively "aw" over. These sorts of acts have been popping up all over the Internet lately, especially among Star Wars fans. With the imminent release of Star Wars: The Force Awakens, it would seem that fans have been unofficially competing to see who can create the biggest and best homage to the saga from a galaxy far far away. Other examples include: fan fiction, amazing cosplay, and even some savvy edits of the older Star Wars films that either add or remove elements of the Star Wars mythos – we're looking at you, Jar Jar.
If you have yet to check out the awesome video above, do yourself a serious favor and give it a watch. Even those who are not partial to the Star Wars saga will be able to marvel at the project's technical achievements. With a little over a month until The Force Awakens finally hits theaters, we think it's safe to say that we will see plenty more amazing fan creations like this.
Your Daily Blend of Entertainment News
Originally from Connecticut, Conner grew up in San Diego and graduated from Chapman University in 2014. He now lives in Los Angeles working in and around the entertainment industry and can mostly be found binging horror movies and chugging coffee.
Your Daily Blend of Entertainment News
Thank you for signing up to CinemaBlend. You will receive a verification email shortly.
There was a problem. Please refresh the page and try again.