This Is How Iggy Azalea Shut Down Haters With A Halloween Costume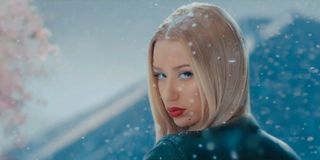 No doubt you've seen a lot of blog posts over the last few days announcing that "X wins Halloween with this amazing costume." Seriously internet, can we get some new one-liners and retire that one along with "after the jump"? Anyway, the point is, I'm not announcing that any celebrity "wins" this year's Halloween, but if there's one clever costume you really should pay attention to, it's Iggy Azalea's creepy getup.
As recently posted to Instagram, the "Fancy" singer and Furious 7 cameo actress unveiled a photo of herself dressed as one of the characters from Shawn and Marlon Wayans' White Chicks.
This is just great for two important reasons. First and foremost, Azalea looks uncanny in her prosthetic mask and denim-on-denim ensemble, adding yet more cosplay to her growing movie homages that also includes Clueless and Kill Bill. But second of all, this costume is a big FU to Snoop Dogg, who two weeks ago went on a scathing Twitter rant against the Australian rapper. It's a whole lot of he said, she said, but the feud culminated in a meme Snoop shared of Azalea in a mock "White Chicks 2" poster.
Azalea replied via Twitter, writing, "ima be the bigger man in this situation and leave it be," following which Snoop eventually apologized for his mean girling in an Instagram video. You have to admit, this is some high school-worthy drama, but clearly Iggy Azalea is determined to get the last laugh, if not provoke Snoop Dogg once again.
Your Daily Blend of Entertainment News
Thank you for signing up to CinemaBlend. You will receive a verification email shortly.
There was a problem. Please refresh the page and try again.