How Kevin James Thinks He Would Do In A Fight Against Ronda Rousey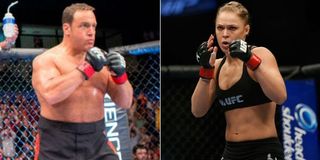 Kevin James may have played an MMA fighter in Here Comes the Boom, but the actor definitely knows where he stands when it comes to real life fighting. The comedian was on the same high school wrestling team as the pro wrestler Mick Foley, and has even admitted to taking down the superstar all the time back in the day. But, when it comes to James' current physical shape, and the baddassery of someone like Ronda Rousey, well, the actor doesn't stand a chance.
In speaking with The Huffington Post, the actor discussed whether or not it'd be a fair fight between himself and the UFC women's bantamweight champion, and well, the actor doesn't even think he'd make it out of the locker room. When prompted whether he could go longer than the 34-second knockout of Bethe Correia, James had the perfect answer:
Kevin James doesn't look to be in the same shape he probably was when he was a high school wrestler. The Paul Blart: Mall Cop actor has tended to stick to the hot dogs rather than the wrestling mats. But in this 'what if' scenario, James admits that even if he did get into the rink with Rousey, it'd be a painful ride:
For anyone who saw the Bethe Correia knockout, it's hard to argue with James. There's no way you want to mess with this chick. Even before she starts swinging, I'd be running the other way.
But hey, Kevin James did put in his own training, and lost a lot of weight for his role in Here Comes the Boom. And for someone who is often recognized as the not so scary Paul Blart, he certainly got the similar intimidation factor down.
It's safe to say having experience acting as a fighter won't take you too far in a professional arena. And anyways, who wants to get their ass kicked when a delicious hot dog is calling your name.
Your Daily Blend of Entertainment News
Thank you for signing up to CinemaBlend. You will receive a verification email shortly.
There was a problem. Please refresh the page and try again.