JK Rowling Reveals The Name Of The North American Wizarding School And More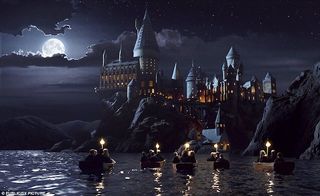 Those who've been wondering what the North America equivalent to Hogwarts is will be happy to learn that J.K. Rowling has finally revealed the name, along with names and locations of the other wizarding schools across the globe. Where do witches and wizards in North America get their schooling? In "Ilvermorny." That's Ill-ver-mor-nee. And as you can see on the map below, it's set on the north-eastern part of North America…
J.K. Rowling's reveal of this new information was announced by Harry Potter star Evanna Lynch at the Opening Ceremony of the Celebration of Harry Potter in Universal Orlando. At this point, the name, location and pronunciation are the only details revealed about the school, which looks like it's either far North in the U.S. (perhaps Vermont?) or possibly as far north as Canada. It's hard to tell exactly where it's located (vote in our poll here!), but Pottermore reveals that new writing from J.K. Rowling is "coming soon," so perhaps she'll zero in a bit more on the location for us when that arrives.
Meanwhile, the full map was posted on J.K. Rowling's Facebook page, and it offers up the locations of the other wizarding schools around the world…
In South America, there's Castelobruxo (Cass-tell-o-broo-shoo), a Brazilian-set school embodied by witches and wizards from all over South America. The main African school is Uagadou (Wag-a-Doo), which is the largest of all wizarding schools. In Asia, there's Mahoutokoro (Mah-hoot-o-koh-ro), which is said to have the smallest student body of the eleven great wizarding schools.
We're all familiar with Hogwarts, and we got to know some students from Beauxbatons and Durmstrang, both of which were featured in the Triwizard Tournament in Harry Potter and the Goblet of Fire. While this new information, including the map and the name of the North American School certainly fill in some major blanks, we're still a few schools short, when taking into account the fact that there are said to be eleven major magical academies in the world. There's a school in Russia called Koldovstoretz, but that doesn't appear on the map, and when Evanna Lynch also mentioned Australia during the reveal.
Fans have been especially excited to learn more about the North American school, after J.K. Rowling revealed that some of the characters in the anticipated feature adaptation of Fantastic Beasts and Where To Find Them attended the North American school. At that time, she teased that "indigenous magic was important in the founding of the school." Given the fascinating tidbits we learned about the founders of Hogwarts, it's likely safe to assume J.K. Rowling has lots of details stored away about the founding of Ilvermorny and the other wizarding academies. We'll be waiting on the edge of our brooms for more details!