Jared From Subway Is In Big Trouble With FBI After Disturbing Text Messages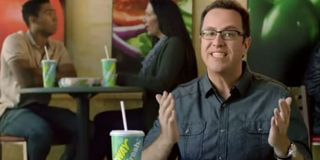 About a month ago, Subway announced that it was cutting ties with its famed success story, Jared Fogle. At the time, Jared was under investigation due to his relationship with a colleague arrested on charges related to child pornography. The FBI was seen removing computers and electronic equipment from the Fogle household. And now, messages from Subway spokesman have been released, showing lewd language and claim that Fogle paid to have sex with a 16-year-old girl.
In what was believed to be just a quick follow-up to the case against former director of Fogle's charity, Russell Taylor, quickly took an even darker turn, when the FBI subpoenaed an addifavit containing alleged texts between Fogle and a female Subway franchise employee. According to Business Insider, the reports show Fogle claiming he paid to have sex with a 16-year-old girl. Apparently, the former Subway franchisee shared these texts with Subway management years ago, but the company did nothing. Subway is claiming they have no record of the woman's complaint.
The woman has asked to remain anonymous, but her lawyer claims the FBI has subpoenaed for the text-message conversations, and upon viewing, Business Insider found Fogle had repeatedly asked the woman to advertise herself on Craigslist for sex with men. He even asked if he could watch the sexual acts for $500 per instance. The messages where recorded from the woman's phone by a court reporter in 2008, and had been witnessed and verified with the authenticity of the phone number attached. Allegedly the woman was in a sexual relationship with Fogle at the time, but became uncomfortable upon these requests. Fogle also asked the woman to set up a meeting for him with her cousin who was underage at the time. There were extensive follow-ups attempting to pursue this meeting on Fogle's part, even with the option of a threesome.
There are a number of disturbing messages between the two, and apparently in 2008, the woman felt uncomfortable and hired a lawyer to determine whether the communication breached her franchiser-franchisee contract with Subway which is when the messages where extracted.
If all this proves to be true, and Subway indeed did not move forward on this woman's request, not only is Fogle in big trouble, but so would be the sandwich shop. It now seems to make a bit more sense Subway was so quick to dissolve Fogle from their records upon learning he was being investigated last month. If they had something to worry about, an investigation would bring those issues up. And boy has a scandal surfaced now.
Your Daily Blend of Entertainment News
Thank you for signing up to CinemaBlend. You will receive a verification email shortly.
There was a problem. Please refresh the page and try again.