Jennifer Lawrence: 15 Awesome Reasons To Love America's Sweetheart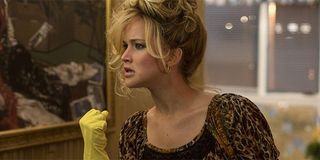 There aren't many 24-year olds out there who have an Academy Award for Best Actress sitting on their shelf. And more so than that, there's not many people out there that could reach that level of fame and still seem so incredibly grounded and down-to-earth. But that's Jennifer Lawrence for you. It's been only 5 years since the young actress's big breakout role in Debra Granik's Winter's Bone, and it took Lawrence even less time than that to become a household name.
The starlet is far more than her impressive acting chops though (which would've been enough to keep us intrigued). No, the young woman has one of the biggest personalities in Hollywood, and she's never afraid to show it. From her silly faces to shockingly candid responses, Jennifer Lawrence has made a name as Hollywood's sweetheart, and the girl we'd all love to kick back and grab a beer with. So here's another 15 awesome reasons why we love Jennifer Lawrence and you will too.
Her Mystique Make-Up Ruined An Apartment
Being blue wasn't all that cool for Jennifer Lawrence. During her time filming X-Men: First Class the young actress had to continually get all blued up for her role as Mystique. Not only did Lawrence have to sit around for three hours getting painted, but getting the paint off seemed to be the even bigger issue. Lawrence told Rolling Stone that she had to fight to get her security deposit back from her Notting Hill apartment after filming, since over the months her makeup had stained the bathtub entirely blue.
She Crashed Her Car Because She Thought She Saw Honey Boo Boo
While driving in Georgia, Jennifer Lawrence spotted a "breast cancer parade". When explaining the situation to Jay Leno on The Tonight Show, Lawrence insisted that she saw the phrase "Boo Boo" on a float, but in reality, it actually said Boobs. Well, Lawrence was so excited at the prospect of seeing Alana "Honey Boo Boo" Thompson, star of Toddlers & Tiaras, that she ended up rear-ending a the vehicle in front of her. While no one was hurt, Lawrence was more upset that the Georgia toddler diva wasn't actually in attendance.
She Plays A Great Prostitute
When she was nine, Jennifer Lawrence played a prostitute from Nineveh in a church play based on The Book of Jonah and she totally rocked the part. While interviewing with Rolling Stone, her mother recalled the play stating,
She Once Got A Lap Dance From A Stripper Named Little Bo Peep
Also while on The Tonight Show Jennifer Lawrence described another strange scene that occurred while shooting a movie in Georgia. One night, when Lawrence went to a local bar for some fun, it turned out that the dive bar also hosted an array of senior citizen strippers. But when Lawrence got a lap dance from a bossy stripper named Little Bo Peep, she had no idea what she was getting herself into. The old woman wouldn't let Lawrence touch her, and also stuck her boob in the actress's mouth. Lawrence said that she almost took a bath in hydrogen peroxide she was so horrified.
She Was A Total Tomboy
Jennifer Lawrence grew up in a suburb outside Louisville, Kentucky and was the first girl born on her father's side in 50 years. Naturally, her parents raised her the same as they did her two older brothers wanting her to be tough and not a diva. Her mother told RS that one time she wanted to play ball while the other girls wanted to make cookies and things got a little out of hand. So, in preschool she was not allowed to play with other girls because she was too rough.
She Was Too Badass For An Abercrombie & Fitch Photo Shoot
Jennifer Lawrence did a photo shoot for Abercrombie & Fitch where a bunch of kids were on a beach tossing a football. But they wouldn't use any photos with her in it. She told RS the reasoning behind it:
She Almost Didn't Get Her Winter's Bone Role
Apparently, Debra Granik, the director of Winter's Bone (Jennifer Lawrence's big breakout role) thought the actress was too pretty to play the tough-girl protagonist (little did she know that Lawrence was quite the tomboy). So, Lawrence told RS that when she went to meet the director, she took a redeye flight to New York, walked thirteen blocks in sleet and showed up with unwashed hair and a runny nose. She ended up getting the part.
She Actually Gutted A Squirrel
There's one particular scene in Winter's Bone where Jennifer Lawrence's character, Ree has to skin a squirrel and cut the guts out for dinner. In her interview with RS, Lawrence divulged that while she'd like to say that particular scene wasn't real for PETA's sake, it really did happen. Lawrence actually gutted a squirrel for that nasty scene in Winter's Bones, and afterwards she screamed and claimed she could never eat spaghetti again.
She Grew Up On A Horse Farm
Jennifer Lawrence grew up on her family's horse farm and her first horse was a pony was named Muffin. She told Rolling Stone, "She was cute, but she was a mean little bitch." Soon after she got a couple of males, Dan and Brumby who she explained hated each other but one day when a huge story hit, the two spend the night huddled together in the barn, and then they were inseparable. Finally, Lawrence had a horse she named Brandy which she looks back on as "so white-trash".
She Met The Verizon Guy
One of Jennifer Lawrence's first booked gigs was a Verizon commercial. It was also one of the first instances she was severely star-struck (as she still gets today) when she got to meet the "Can you hear me now?" guy. Lawrence also had a number of random acting roles including playing a victim's daughter on Cold Case and a school mascot on Monk as well as a bunch of modeling gigs before really becoming a name with Winter's Bone.
Her Nickname Is Jenny From The Block
Jennifer Lawrence has had the nickname "Jenny from the Block" for a while, and also many people call her J-Lo, she told Empire Magazine. One time she and Jimmy Fallon tried to get the original J-Lo (Jennifer Lopez) to dance dance and she said no. Lawrence was also often nicknamed Nitro growing up, short for nitroglycerine because she was hyperactive and curious about everything. But then in school, her curiosity curbed, she told France's Madame Figaro magazine that she had a kind of social anxiety.
She Loves Game Of Thrones
When on the set for X-Men: Days Of Future Past Jennifer Lawrence was once again star-struck. She's a huge Game of Thrones fan, and freaked out when meeting Peter Dinklage. She told Empire magazine that she lost her mind thinking about Tyrion Lannister and wanting to get on her knees and say, "My liege…" She said that everyone on set was freaking out especially when Dinklage walked by on a cellphone and they all said, "Oh my God, Tyrion Lannister is talking on a cellphone!"
She Was Almost In Twilight And Superbad
Before Jennifer Lawrence's big break she paid her dues, playing a number of supporting roles in small movies as well as a TBS sitcom, The Bill Engvall Show. But before she won over audiences in Winter's Bone Lawrence told Rolling Stone that she actually auditioned for two other popular teen roles including Bella in Twilight and Emma Stone's breakout role in Superbad but didn't land either part.
She Learned Archery From The Best
When Jennifer Lawrence scored the role as Katniss Everdeen in The Hunger Games, she had to go through some extreme training. Not only did she learn to rock climb and do hand-to-hand combat, but of course she had to learn how to yield her character's weapon of choice. To play the part most accurately, Lawrence trained with a four-time Olympian and archery coach. And the work paid off because Lawrence told RS that now she can hit four or five bullseye out of ten shots.
She's The Real Deal
Jennifer Lawrence made quite the first impression when meeting her Hunger Games co-star, Woody Harrelson. As she stepped into his trailer, she looked over at Harrelson's yoga swing and said, "Hi Woody, I'm J - is that a sex swing?". But, Harrelson only has kind words for the actress, telling RS:
Your Daily Blend of Entertainment News
Thank you for signing up to CinemaBlend. You will receive a verification email shortly.
There was a problem. Please refresh the page and try again.