Kate Upton Didn't Like How The Sports Illustrated Cover Made Her Feel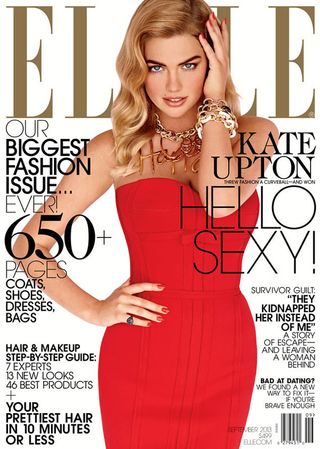 Kate Upton is currently one of the more famous models in the United States, helped by a racy Sports Illustrated cover earlier this year that both inspired controversy and made sure that certain factions of the population only see her for her sex appeal. Now, Upton is set to appear on the cover of the September issue of Elle, rocking a glamorous red dress that highlights her curves, and she wants people to know she's neither "dumb" nor anyone's "toy."
Upton may look sensational for the new Elle shoot, but she tells the magazine that her reaction to the SI cover left her a little more down in the dumps, thanks to the attention she received from men over the next several months.
It's not just popping up on the cover of one of the most remarkable swimsuit issues in recent memory that troubles the 21-year-old model. In fact, she says the modeling world can be tough, with people constantly just assuming she's dumb and no good for anything other than wearing pretty clothing—assumptions that are both hurtful and annoying for the enterprising young starlet.
Upton is not the only young model to discuss the woes of her profession. Not only is modeling a tough profession to thrive in, but once a person is in the field, his or her body (and apparently brain) becomes subject to debate. Upton has received her share of criticism, even having to deal with people voicing concerns that she is too fat for the runway in the past.
It's true that Upton chose modeling as a profession, and thanks to that decision, she might have to deal with things the average pretty woman does not. Any job has its upsides and its downsides, and it's interesting to hear what the cons are for the model. Irregardless of what she might have to deal with while working, she gets to wear beautiful clothes and appear in shoots all over the world. Now, taken some editorial photos for Elle. In this case, I hope the pros outweigh the cons.
Photo Credit @ Carter Smith
Reality TV fan with a pinch of Disney fairy dust thrown in. Theme park junkie. If you've created a rom-com I've probably watched it.
Your Daily Blend of Entertainment News
Thank you for signing up to CinemaBlend. You will receive a verification email shortly.
There was a problem. Please refresh the page and try again.