Kenny G Signs Divorce Papers After 20 Years With His Wife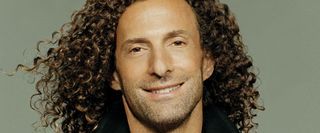 The ever-so-smooth Jazz saxophonist Kenny G was able to charm his wife with his musical prowess for 20 years, but two decades, and surprisingly only one haircut later, Kenneth Bruce Gorelick and Balynda Helene Benson-Gorelick have decided to divorce. The couple actually separated all the way back in January but did not file for divorce until last week, when the musician himself went to court to sign the papers to officially confirm the break-up.
The divorce papers were filed in Los Angeles on August 9, with Kenny G asking for joint custody of the couple's underage son, Noah (they have an adult child, as well). The custody request comes as a bit of a surprise, considering Benson-Gorelick initially requested she take over full custody after the separation. You can't really blame both parents for wanting to spend time with their kid, however.
People is reporting Benson-Gorelick and her musician husband have a prenuptial agreement in place, which means there is unlikely to be a long, drawn out battle in court. There are plenty of celebrity couples that look as if they are headed for disaster from the start and then there are the rarer couples like the Gorelick's, who have always presented the committed and united front it takes to make a relationship work long-term. It is always a whole lot sadder when a couple in the latter camp decides to call it quits, and Pop Blend would like to wish the two broken halves of the former union the best of luck as they move forward, apart.
Your Daily Blend of Entertainment News