Padma Lakshmi And Adam Dell Figure Out Custody Issues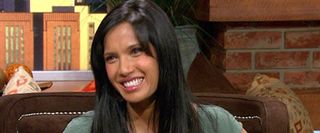 The custody dispute between Padma Lakshmi and former partner Adam Dell was a strange one. By the time Padma had her daughter, Krishna, her relationship with Dell had ended and she was already in the throes of a new romance, this time with ex financier Teddy Forstman. Dell eventually filed a paternity lawsuit which proved he was, indeed, the baby daddy, which led to a bunch of fun and lengthy sessions for the ex couple over the past year to help Dell ensure he will play some sort of roll in Krishna's life.
On Thursday, the dispute reached an official and public conclusion. Krishna will now be known by a lengthier title, specifically Krishna Thea Lakshmi-Dell. The NY Post is reporting the negotiations have also ensured the 42 year-old father will get to spend more time with his daughter, who is now 2 years old. In other ways, the Top Chef host will uphold the same rights and responsibilities she has held as the child's mother in the past. Translation: Dell gets to be the fun side parent while Lakshmi will hold the reins.
On a serious note, it is great to see the couple reach a fairly easy-going and happy conclusion in the matter. While it initially seemed as if Lakshmi had plans to enable Forstman to effectively parent Krishna, with his untimely death, that chapter is over in her life and it will be nice to allow her daughter to know her actual parent and have him in her life. That is, as long as Dell keeps his end of the bargain.
Your Daily Blend of Entertainment News