Boston Strangler: 5 Things To Know Before You Watch The New Hulu True Crime Drama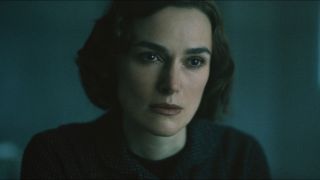 (Image credit: Hulu)
Over the years, there have been multiple movies based on sinister serial killers, their heinous crimes, and detectives (and investigative reporters) who have brought them to justice. Matt Ruskin's new movie, Boston Strangler, is another addition to that list that includes everything from Zodiac to Monster, as well as the 1968 crime drama based on the same case, The Boston Strangler.
The movie, which stars Keira Knightley, Carrie Coon, Chris Cooper, and a dozen or so other tremendous actors, just premiered on Hulu, and there are surely a lot of people who want to check it out. That being said, there are a few things to keep in mind before watching the new release, which we break down below…
Boston Strangler Follows Two Reporters Investigating A Series Of Grisly Murders
Unlike Richard Fleishcer's 1968 crime drama based on the string of 13 murders that rocked Massachusetts just a few years earlier, Boston Strangler focuses less on the detectives looking into the case and more on the two female Boston Record American reporters – Loretta McLaughlin (Keira Knightley) and Jean Cole (Carrie Coon) – who dedicated their careers and lives to breaking the case. The police still play a crucial role in the movie, but again, the primary focus is from the journalists' point of view.
Boston Strangler Is A Drama, Not A Documentary
We are living in the golden age of the true crime documentary, with riveting, and oftentimes terrifying, explorations of real crimes. And while Boston Strangler is based on true events, it is a drama film, as opposed to a documentary. That being said, the movie does keep it close to factual events as possible, but go in knowing that some creative liberties may have been taken throughout the story.
Boston Strangler Explores Multiple Theories Surrounding The Serial Killer Case
Without giving too much away, Boston Strangler explores various theories surrounding the shocking series of murders that took place throughout the early 1960s. No stone is left unturned throughout the movie, as the police and reporters covering the case go far and wide to nab the killer before they can strike again. This is especially true in the film's final chapter when some of the more intense theories are broken down in great detail.
The Movie's Two-Hour Runtime Flies By
Boston Strangler's story plays out in a little less than two hours, and those 112 minutes fly by. The movie's engaging story, pacing, and dynamic performances by its cast all work together to create a quick-moving movie that doesn't really stop once it gets going.
Boston Strangler Is Rated R
No surprise here, but Boston Strangler has an R-rating due to the fact that it goes into great detail about the various murders and sexual crimes committed by the titular serial killer. Though you don't see the acts being committed, you do see what leads up to the killings and the aftermath, including multiple crime scene investigations. Again, it's nothing too intense, but just know that the movie doesn't hold back in its descriptions of events.
Boston Strangler is currently streaming for anyone with a Hulu subscription, which also gives you access to an ever-growing library of great titles (both originals and classics). And if you want to know about all the other upcoming movies coming to streaming services like Hulu and the big screen, check out our 2023 release schedule for all the latest.
Stream Boston Strangler on Hulu. (opens in new tab)
Your Daily Blend of Entertainment News
Philip grew up in Louisiana (not New Orleans) before moving to St. Louis after graduating from Louisiana State University-Shreveport. When he's not writing about movies or television, Philip can be found being chased by his three kids, telling his dogs to stop yelling at the mailman, or yelling about professional wrestling to his wife. If the stars properly align, he will talk about For Love Of The Game being the best baseball movie of all time.