Invincible Season 2: What We Know About The Upcoming Installment Of The Amazon Prime Series
The heroes are back at it again.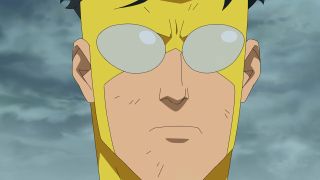 (Image credit: Amazon Studios)
In a world where we are constantly surrounded by superhero shows, it's sometimes hard to find a diamond amongst all of the Arrowverse TV shows, or all the Disney+ Marvel shows that are there. My diamond appeared in 2021, in the form of the Amazon Prime Video original series, Invincible.
In this show, a boy who has grown up with a super-powered father finally gets his own powers as a teenager, creating the identity, "Invincible." But as he learns to become a hero, he starts to discover just how deep and dark being a super-powered man can be - and how his father has secrets he never would have known.
Invincible, in my eyes, is the perfect superhero show in so many ways, and while that first season flies by because you're so into the plot, you don't need to worry at all, because Invincible Season 2 is in the works right now. But, who's going to come back for the show? And what is the plot going to be about? Here is what we know about the upcoming second season of Invincible.
Invincible Season 2 Will Premiere In Late 2023
If you were wondering when the next season of Invincible was going to arrive, you're not going to have to wait long – at least hopefully. According to a special YouTube video teaser that was released by Prime Video, it was confirmed that Invincible Season 2 will premiere sometime in late 2023.
This is especially great news, considering it's been so long since we've seen the first film. Having that added onto our 2023 TV release schedule is something to look forward to. While we're not entirely sure of the exact date, at least we have 2023 as a buffer for us to get there.
Steven Yeun And Seth Rogen Will Be Back
While not that surprising, with that YouTube teaser that was released above, we can, at the very least, confirm that Steven Yeun, who voices Mark/Invincible in Invincible, and Seth Rogen, one of the producers of the series and the voice of Allen the Alien, will be back for Season 2 of the hit prime show.
Steven Yeun's return was already pretty solidified back in April 2022, when he was shown on a post from the Invincible Twitter page that he was back in the recording studio, but to hear his voice again is always a pleasure.
No one else has been confirmed to come back so far, since we only know about those two voice actors from the teaser, but we can at least hope they'll be coming back. J.K. Simmons said in an interview with Discussing Film in March 2022 that they were going back to work "very soon" on Season 2 of Invincible, so it sounds like he will be back.
I'm super excited to see what they do next with these fantastic characters.
There's Going To Be Some Sort Of Battle Between Invincible And Immortal
It's not that surprising to think that the plot of Invincible Season 2 has pretty much been kept under wraps. We really have no idea where the story is going to go after what happened in the eventful Season 1 finale. But thankfully, the Invincible Twitter page always feeds its fans, and it gave us a sneak peek of what looks to be a script for an upcoming episode.
In the picture, we see that there is a heavy fight going on between Invincible (Mark) and Immortal, otherwise known as "The Immortal." It takes place at night, and seems to be intense, as The Immortal is trying to take out Mark after what Mark's father, Omni-Man, did.
Other than that, we are pretty scarce on what Season 2 is going to entail, but at least we have major fights like this to look forward to.
Check Out The Teaser For Invincible Season 2
If you haven't seen the teaser yet, that was released for Invincible Season 2, be sure to check it out down below, featuring our favorite superhero out to eat with Allen the Alien at a burger shop, lovingly named, "Burger Mart." You gotta love it.
A Third Season Is Already Confirmed
Another great piece of news is that Invincible was not only renewed for Season 2, but Season 3 at the time of announcement, as well. Which means we'll get so much more story after that heavy Season 1 finale. At the time of the announcement, creator Robert Kirkman, known for his role in adapting another comic book series, The Walking Dead, had this to say:
That's something to certainly look forward to in the coming years. Now, here comes some more good news, along with some not-so-good news.
Robert Kirkman Wants Invincible Season 2 To Be 'Unexpected' For Comic Fans
While Invincible's Season 2 plot hasn't been revealed yet, many fans might feel inclined to find the comics that the popular show is based off of to get an idea of what comes next. However, co-creator Robert Kirkman says that the comics are not always the best way to figure out the next part of the story, as he tries to make things "unexpected," in an interview with The AV Club, he noted:
I'm always down for a good plot twist - Kirkman had many changes in The Walking Dead series from the comics that made the show even better (like including a certain archer who was never in the comics but ended up becoming the ultimate fan-favorite), so I'm down to see whatever Kirkman is doing for Invincible.
While we won't be seeing Season 2 of Invincible for some time now, you can at least be sure to check it out again on Amazon Prime and relive the animated trauma all over. Patience is a virtue - and I definitely don't have it right now.
Your Daily Blend of Entertainment News
Big nerd and lover of Game of Thrones/A Song of Ice and Fire. Will forever hate season eight. Superhero and horror geek. And please don't debate me on The Last of Us 2, it was amazing!