Jerry Seinfeld Joined Forces With Bryan Cranston To Celebrate Seinfeld's New Streaming Home
Kramer is the one who knocks...or doesn't.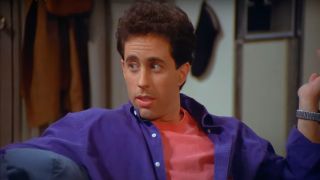 (Image credit: NBC)
After Hulu's streaming rights deal for Seinfeld expired in June 2021, the show was stuck in a sort of limbo, with many fans left wondering what would happen to the beloved sitcom's digital existence. After all, there's only so many times one can watch the same edited-to-hell syndicated episodes on cable before going a little crazy. That's where Netflix came in: the streaming giant just dropped every season of Seinfeld into its lineup, and star Jerry Seinfeld joined forces with Bryan Cranston for a celebratory promo video.
As of October 1, 2021, all nine seasons of the hit sitcom Seinfeld are available to stream on Netflix. To celebrate the comedy's return to streaming after a five-month hiatus, original star Jerry Seinfeld teamed up with Breaking Bad great and fellow Seinfeld veteran Bryan Cranston for a fun LEGO-inspired skit. You can check out the announcement below:
Bryan Cranston guest-starred on Seinfeld as the dentist Tim Whatley back in the 90's, but is playing old-timey television announcer narrating Jerry Seinfeld's actions in the new vid. With corporate synergy to spare, the comedian is costumed as a life-sized LEGO version of his TV character, tying in with the recent release of LEGO's limited edition Seinfeld set that allows customers to build a miniature model of Jerry's iconic Upper West Side apartment. As goofy as it is to watch Jerry Seinfeld clumsily pour himself a bowl of plastic cereal with his "C-shaped" hands, it's even more amusing to watch Bryan Cranston have so much fun in non-LEGO mode. When you're used to watching him play a grizzled chemistry-teacher-turned-meth-dealer on Breaking Bad, or a dilemma-strapped judge on Showtime's Your Honor, a hard cut to Cranston in chino shorts is nothing short of comedy gold.
The video also features some other amazing references to the original show. Patrick Warburton makes a blink-and-you-miss-it cameo as LEGO David Puddy (Elaine's on-again, off-again boyfriend) to fire off his signature one-liner: "Yeah, that's right," though no screaming about the Devils or Arby's. Sadly, Bryan Cranston informed fans that LEGO Tim Whatley will not be available - after all, he only did six episodes (a fact Bryan Cranston hammers home with mock-outrage).
It's a fun promo for a classic series, as weird as that is to consider. YouTube commenter Hakubi perhaps summed the commercial up best:
If it somehow flew over your head this whole time, you can relive Seinfeld, television's best show about nothing, on Netflix now. If you're missing the cast after rewatching all 9 hysterical seasons, there's plenty of content to check out. Julia Louis-Dreyfus has established herself as a television mainstay, with shows like The New Adventures of Old Christine and a multiple Emmy-winning performance as Selina Meyer on Veep. Jason Alexander frequently pops up in animation voice-acting, and recently started his guest-starring stint on ABC's The Conners. And, of course, this list would be incomplete without a mention of creator Larry David's Curb Your Enthusiasm, a sort of spiritual successor to Seinfeld. Neither Veep nor Curb Your Enthusiasm are available to stream on Netflix, of course, but are instead found on HBO Max. Not that there's anything wrong with that.
Actor, singer, and occasional dancer. Likes: fashion, books, old buildings. Dislikes: cilantro, the NJ Turnpike, sneaker wedges.
Your Daily Blend of Entertainment News
Thank you for signing up to CinemaBlend. You will receive a verification email shortly.
There was a problem. Please refresh the page and try again.