Netflix's Perfect Match: Why I Had A Blast Watching The Chaotic Dating Show… Especially As A Love Is Blind Fan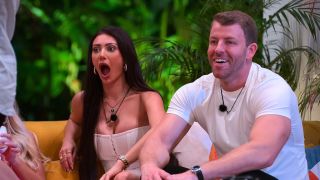 (Image credit: Netflix)
SPOILERS are ahead for Perfect Match and Love Is Blind, now streaming with a Netflix subscription.
Aside from my stint into Bachelor Nation a few years ago, I've long been someone who doesn't partake in the reality show world. I've never seen an episode of Keeping Up With The Kardashians, Jersey Shore or Real Housewives, but Netflix's Love Is Blind has had a real grip on me as of late. And, apparently it's only the gateway drug to a whole universe of reality dating shows now that I've seen Perfect Match. Despite the series crossing over contestants from the likes of The Circle, Too Hot Too Handle (which I've yet to binge), along with familiar faces from Love Is Blind, I had an absolute blast following the show week to week.
I've been a devout Love Is Blind fan, but that's about it when it comes to the large selection of Netflix dating shows. I find the experiment of finding one's potential life partner by speaking through a wall intriguing whether it crashes and burns or becomes a bonafide love story. Perfect Match casually drew me in with the awareness that a few of the past contestants would be in another atmosphere than Love Is Blind, but I'll break down the reasons why Perfect Match was so fun for me and ended up exceeding my expectations.
It's A Lighthearted And Playful Shift From Love Is Blind
Now Love Is Blind is a good time, don't get me wrong, but there's some tension there in the fact that the contestants are getting ready to sign up for a lifetime with their chosen partners on the TV show. Enter Perfect Match. This show is a no strings attached vacation from Love Is Blind without meeting the parents, living together or saying "I do" and I loved the shift into a more lighthearted and playful dating series. Everyone on the show spoke like they wanted to find their forever person, but as signified in the results of not a single couple making it (via Cosmopolitan) after it ended, they were all there for a good time, not a long time, and honestly I was down for that journey.
So many of these dating shows hang on a thread of couples getting together and being expected to remain together after a few short weeks, it was a lot of fun to see each of the contestants really play the field with numerous pairings throughout the season and strategize their place on the series. As I've watched Love Is Blind over the years, and seen less couples actually say "I do" more than ever it feels like the show is fake, but Perfect Match allowed the Love Is Blind stars to be the reality stars that they are, and it was refreshing to see.
Season 2's Shayne Gets In The Middle Of Two Love Triangles
Here's the Love Is Blind contestants who were on Perfect Match Season 1: Damien Powers, Lauren "LC" Chamblin and Diamond Jack from Season 1, Shayne Jansen from Season 2, and Bartise Bowden from Season 3. Each of them had very different roles to play in Perfect Match, but I appreciated that the series chose people with much different journeys on the marriage experiment. The decision to put Shayne and Bartise in was probably the smartest of them all. Let me start with Shayne.
Shayne is a goofy fellow, who has a chaos about him, if only because he's clearly an emotional gentleman. Things didn't work out for him on Love Is Blind, but I was rooting for him on Perfect Match and his arc on the show was super juicy. The dude was part of not one, but two love triangles on the show, first when he got with Inez while Nick also liked her, and then when sparks flew between him and Chloe only for her ex Mitchell to later get in the way. I found what happened with Shayne particularly interesting because it showed that his breakup in the finale of Love is Blind like actually really affected him going into his next relationship. One does not heal right away from being left at the altar, and as a Love Is Blind fan, I actually am happy that this POV was tackled after wondering if they are unscathed by such a whirlwind experience. Netflix should consider paying for his therapy!
Season 3's Bartise Gets Called Out By A Lot More Women
Then there's the other side of the coin with Bartise. Last season, Bartise was the one who said "I don't" to Nancy after a pretty tumultuous relationship between the two where I came away thinking maybe Bartise wasn't ready to be a husband. Now in Perfect Match, Bartise literally could not stick with one woman for more than a couple episodes. He'd come off as charming and find a connection with one woman only to quickly get fired about another one on a whim and it gave Izzy and Abbey serious whiplash.
I imagine Nancy can watch this show and rest easy that the right decision was made after all on the show, because her ex was struggling on Perfect Match. Obviously, everyone is human here and has their own dating journeys, so no shade, but it was entertaining to see one of Love Is Blind's most controversial contestants continue what he started on another platform, and most of all be called out by more women.
It Got Me Intrigued For Other Netflix Dating Shows I've Yet To See
When it comes to the other Love Is Blind callbacks, it was less eventful (but still welcome) for me. But, all in all, Perfect Match opened my eyes to a universe of dating shows Netflix has and perhaps opened my eyes to reality TV that's not going toward moments at the altar. Getting to know the personalities of Too Hot To Handle or The Circle without having watched the show first made me realize that I've perhaps denied myself more dating show content not revolving around weddings.
Honestly, as someone who watches a lot of movies and TV shows all around, there's something so fun about decompressing with some relationship drama and friendly dating competition. Yeah... I get reality TV now.
Your Daily Blend of Entertainment News
YA genre tribute. Horror May Queen. Word webslinger. All her writing should be read in Sarah Connor's Terminator 2 voice over.