Outer Banks' Madelyn Cline Reveals 'Incredible Lessons' From Glass Onion Cast That Impacted Her Season 3 Performance
Madelyn Cline learned a lot in Greece that she brought back to the Outer Banks.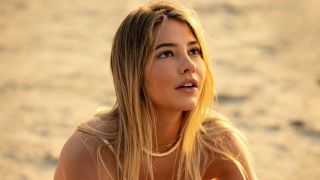 (Image credit: Jackson Lee Davis/Netflix)
While all of us Outer Banks fans have known about Madelyn Cline since Sarah Cameron came on the screen in Season 1, many were introduced to her when she appeared in Glass Onion: A Knives Out Mystery as Whiskey. This hit whodunnit marks the biggest movie the actress has been in, and the most famous cast she's ever worked with. Now, as Season 3 of Outer Banks premieres on the 2023 TV schedule, the actress is looking back at her time on Rian Johnson's film, and how that impacted her performance in the latest season of the hit Netflix adventure series.
I think what differentiates the experience of working with the Outer Banks cast as opposed to the Glass Onion cast is the fact that Cline has come up in the industry with her OBX co-stars, whereas she was joining an ensemble of well-established actors in Rian Johnson's Knives Out sequel. The actress reflected on going from the set of the whodunnit back to the world of the Pogues, and the lessons she brought back to the Outer Banks, telling EW:
Obviously working with actors like Daniel Craig, Kate Hudson, Janelle Monáe, Dave Bautista and more, would be a once-in-a-lifetime learning experience for anyone, however, Cline explained she had no idea just how transformative her time on Glass Onion would be. As she prepared to return to the Outer Banks she thought about everything she took away from her time on the Knives Out mystery, and said:
How To Watch Season 3 Of Outer Banks
You can stream all three seasons of Outer Banks with a Netflix subscription.
I'd assume seeing A-list actors like the A-list Glass Onion ensemble ask for another take, and really work to be the best they can be would have not only been enlightening, but reassuring. Cline noted how physically and emotionally demanding Outer Banks is to film (I mean her beau John B. almost dies in every episode), and having the confidence to ask questions, and run things one more time, must have made her job in Season 3 much easier. She also noted how demanding Sarah's story is this season, and she said the lessons she learned allowed her to take Sarah to new heights.
While Cline and the OBX cast admitted they would have tapped out of the treasure hunt a long time ago, the Pogues are still at it, and the actress is still on this wild adventure as Sarah Cameron. Luckily, between seasons of the hit show, the actors on Outer Banks have had time to take on other projects. So, Cline got to join the cast of Glass Onion, learn loads, and bring it all back to enhance her performance in Season 3 of Netflix's hit series.
Your Daily Blend of Entertainment News
Riley Utley is a Weekend Editor at CinemaBlend. She spent many years working in local journalism across the country writing about art, news and sports. One of her favorite films is When Harry Met Sally and she walks around constantly quoting Ted Lasso.