Rom Com Legend Nancy Meyers Is Putting Together An All-Star Ensemble For Her New Netflix Movie, Including Scarlett Johansson
Rom-com director Nancy Meyers is getting together with Netflix for her new movie to feature an all-star ensemble cast, including Scarlett Johansson.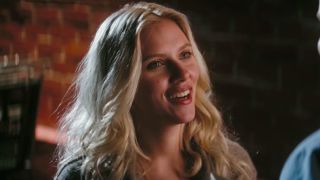 (Image credit: Warner Bros. Pictures)
When you watch a Nancy Meyers movie, it's almost impossible not to experience feel-good vibes after. The last heartwarming movie she gave us was seeing Robert De Niro and Anne Hathaway at their charming best in The Intern. Seven years later, the rom-com legend is back putting together a new Netflix movie with an all-star cast that includes Scarlett Johansson.
Nancy Meyers is known for her heartwarming rom-coms with popular examples being the Father of the Bride movies (which recently reunited the cast during the pandemic for a Zoom wedding), The Parent Trap, The Holiday, and It's Complicated. According to The Hollywood Reporter, streamers are going to be very happy knowing her next movie is coming to Netflix with an A-list ensemble to join. Sources say that Scarlett Johansson may be the film's lead with other stars like Penélope Cruz, Owen Wilson, and Michael Fassbender possibly joining the project. Meyers is set to be the brains behind the operation writing, directing, and producing the comedy with its possible title being Paris Paramount.
Scarlett Johansson is absolutely due for a rom-com. As much as we love watching her play Black Widow in the Avengers movies, the lastromantic comedy ensemble she was in was He's Just Not That Into You back in 2009. Meanwhile, and her last romance was the Oscar-nominated Netflix breakup movie Marriage Story. As such, the timing seems right. This would also be a chance for her to reunite with her Vicky Christina Barcelona co-star Penélope Cruz, who she shared great chemistry in the Woody Allen rom-com. With so much talent in one movie, audiences who want in on Nancy Meyers' signature warming tone are sure to want to tune in.
Sources have an idea of what the plot of the upcoming Netflix movie will be. The story will reportedly follow a talented young writer-director who falls for a producer only for them to break up and have to reunite again for an upcoming project. In a way, this rom-com is considered semi-autobiographical of Meyers' own life. She was in a 19-year relationship with writer-director-producer Charles Shyer, who she met while working in Hollywood. They collaborated on a number of films together like The Parent Trap, Baby Boom, Private Benjamin, and Father of the Bride. After the couple divorced in 1999, Meyers still continued on with her career making memorable films that make our hearts melt.
This American filmmaker could also be making Netflix history with her new movie in terms of budget. It's currently eying dollar signs with a $130 million-$150 million budget. This would be the most expensive romantic comedy to ever be made in Hollywood. With so many high-profile stars expected to be featured in this movie, it makes sense. But Nancy Meyers has been very successful with her rom-coms and if anyone deserves a large budget for her movies, it's her. Especially if we don't end up getting a sequel to another one of her movies The Holiday, we need a movie to show up on our Netflix home feed that will make us smile and reawaken our feelings of love.
We may have an idea where to see Nancy Meyers' new flick, what it could be about, and who's in it, but it's still up in the air when this Netflix rom-com will be released. All the more reason for you to tune into our 2023 movie releases so you know when to include this star-studded romantic comedy to your watchlist.
Your Daily Blend of Entertainment News
Just your average South Floridian cinephile who believes the pen is mightier than the sword.