Stranger Things Is Ending After Season 5. But How Does That Make Millie Bobby Brown Feel?
Is she ready to leave the Upside Down?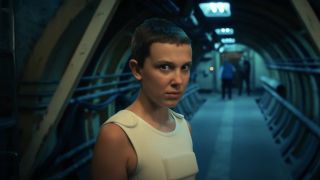 (Image credit: Netflix)
Like the core trio of Harry Potter, the kids of Stranger Things rose to great fame at a very young age because of their roles, and their work on the sci-fi series helped their careers take off. Also like the actors in the hit fantasy movies, the young stars of one of the best shows on Netflix recognize how much fans love it, but they are understandably ready to move on. This includes Millie Bobby Brown -- who started on the show when she was 12 and is now 19 -- as she explained why she's ready to leave Eleven behind after Season 5 of Stranger Things, and move on to a new chapter of life.
While the young actress has been in other successful projects, like the Enola Holmes movies on Netflix, Stranger Things is what she is best known for. She's been playing Eleven since she was 12, and fans have fallen in love with her and the entire cast of the sci-fi series. However, nothing can last forever, and understandably, Brown is ready to move on to other projects, as she told Seventeen:
I totally get where Brown is coming from, as a viewer I never want a show to overstay its welcome, and I would assume that actors don't want to play the same character forever. This is especially true for this cast because they started at such a young age, and reached a level of fame that can be "devastating," as Brown's co-star Matthew Modine explained. I love that the actress is so appreciative of the show, and has loved her time on it, and I understand why she's ready for it to end. It's kind of like high school or college, when you get to the end of your four years, you're usually ready to leave, even if you enjoyed your time there.
While we know the end is near, what we don't know is the fate of the characters. Turns out, the actors also don't know their characters' futures either. Brown has joked about the series finale. Finn Wolfhard made it clear he hopes Mike doesn't die. And based on how Will's story unfolded in Season 4, Noah Schnapp is "excited for what's to come," even if he doesn't know what exactly is coming.
The filming of Stranger Things 5 is expected to start this summer, so the actors will step into their costumes for the last time soon, and we'll be seeing Eleven and co.'s final fight the Vecna and the Upside Down. However, I'd guess it will still be quite a while before the audience gets to see the Hawkins crew's final stand.
Along with Stranger Things, Brown has a few projects in the works where she is set to star and produce. I'd imagine that once the hit Netflix series ends, the young actress will continue to develop, star and produce more projects with her new free time. However, it seems like she'll always remember where she got her start and cherish her time on the Duffer Brothers' show.
While we don't know when the fifth and final season of Stranger Things will come out, you can stream Seasons 1 through 4 right now with a Netflix subscription.
Your Daily Blend of Entertainment News
Riley Utley is a Weekend Editor at CinemaBlend. She spent many years working in local journalism across the country writing about art, news and sports. One of her favorite films is When Harry Met Sally and she walks around constantly quoting Ted Lasso.