The Sandman And Sweet Tooth Are About To Get Some Company, As An Upcoming DC TV Show Is Moving From HBO Max To Netflix
Netflix is adding another DC show to its slate.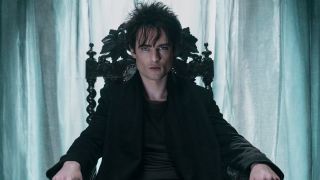 (Image credit: Liam Daniel/Netflix)
Between the DC shakeup following the hiring of James Gunn and Peter Safran and HBO Max moving shows off its platform left and right, another series has been caught in the crossfires of this big shift. However, this time it's luckily not bad news, because rather than being canceled altogether like Titans and Doom Patrol, the upcoming DC drama Dead Boy Detectives will be moving from HBO Max to Netflix, joining the ranks of other DC properties like The Sandman and Sweet Tooth.
Netflix has picked up Dead Boy Detectives according to THR because the show reportedly didn't fit into the plan for upcoming DC shows and HBO Max wouldn't have been able to market the show until 2024. So, now, the series based on comics by Neil Gaiman and Matt Wagner will make the move over to the streamer that houses the adaptation of Gaiman's seminal work The Sandman, which Dead Boy Detectives is a spin-off of, as well as another DC property Sweet Tooth.
The series centered around the story of teenage ghosts Edwin Payne and Charles Rowland is executive produced by Greg Berlanti, and it will be the second show of his to make the jump to Netflix. While the producer is known for his slate of extremely popular DC shows on the CW, he also serves as an executive producer on You, which made the move from Lifetime to the legacy streamer a few years ago, and has since become an extremely successful series for Netflix.
Along with the success of Berlanti's shows, the other two DC shows that are Netflix Originals are both loved by audiences and have been renewed. The Sandman was picked up for Season 2 months after its very successful first season, and Sweet Tooth received renewal last summer, meaning there's likely already an audience ready to take in Dead Boy Detectives.
So, considering Berlanti's track record with You moving to Netflix, the streamer renewing multiple DC shows in the last year, and the fact that this series is a spinoff of The Sandman, it seems like Dead Boy Detectives is in good hands.
While this move is good news, it also emphasizes HBO Max's decision to move quite a bit of its content to other streaming platforms. Along with canceling Titans and Doom Patrol, the streamer also nixed the reboot of Gossip Girl, canceled Minx (which is now moving to STARZ), and moved a slew of shows, including Westworld from HBO Max to third-party streaming platforms.
Considering the two DC shows that got canceled and the new direction the studio is moving in, it makes sense that this adaptation of Gaiman and Wagner's work is moving platforms. Also, knowing the shared comic history between Dead Boy Detectives and The Sandman it feels fitting that the two series will live on the same platform.
Be sure to stay tuned to the 2023 TV schedule to see how the DC shakeup impacts the future of various shows, as well as news about when Dead Boy Detectives will make its debut on Netflix. In the meantime, while you wait for this ghostly adaptation helmed by The Flight Attendant's Steve Yockey and Arrow's Ben Schwartz, you can watch The Sandman and Sweet Tooth with a Netflix subscription.
Your Daily Blend of Entertainment News
Riley Utley is a Weekend Editor at CinemaBlend. She spent many years working in local journalism across the country writing about art, news and sports. One of her favorite films is When Harry Met Sally and she walks around constantly quoting Ted Lasso.