The Flash Merchandise Reveals Plot Details About Micheal Keaton's Batman
This'll get fans even more pumped for Keaton's return as the Caped Crusader!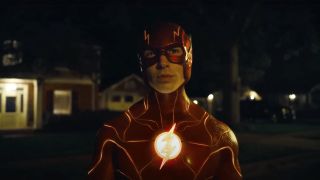 (Image credit: Warner Bros. Pictures)
DC Comics fans have waited for what feels like a lifetime for a standalone The Flash movie. Of all the on-again-off-again DC movies, the Scarlet Speedster has had the most extended history of delays. The film's first brief look occurred at DC FanDome back in 2021, only for the release date to change repeatedly, first in light of star Ezra Miller's troubling behavior and then seemingly thanks to the DC/Warner shake-up as James Gunn and Peter Safran were appointed as co-heads of the newly created DC studios. However, the wait is almost finally over! And thanks to some merchandise, we finally have some plot details about how Michael Keaton's long-awaited return as Batman plays into the superhero flick's plot.
McFarlane Toys is producing the toys for The Flash, according to a report from Toyark. The first round of merch includes 12-inch statues of Keaton's '89 Batman and Ezra Miller's Flash. The figures are incredibly detailed and minimally articulate. Along with first-look images, the outlet also published McFarlane's synopsis for each figure, giving away key details for the forthcoming movie. The copy for the Batman Multiverse 12in Statue reads:
What's particularly exciting about these plot details is that they fall in line with what was revealed at the 2017 San Diego Comic-Con. There, DC Comics announced The Flash movie would follow the "Flashpoint" storyline, which based on the trailer for the scarlet speedster's movie, that seems to be the case (with some noted differences).
In the source material, Barry Allen decides to travel back in time to try and prevent his mother's murder and, while he winds up being successful, he alters the future. For example, Bruce Wayne gets killed in an alley behind a movie theater instead of his parents, making Thomas Wayne become a murderous, vigilante-type Batman. At the same time, Bruce's mother, Martha Wayne, goes insane and becomes The Joker.
However, the merchandise plot synopsis suggests a very different future world that Barry faces upon his return. If McFarlane Toys are to be believed, it sounds like fans will be treated to a different version of the Caped Crusader in this cinematic retelling of the iconic comic storyline, possibly a version played by Michael Keaton, who has long given up on the mission of being a crime fighter and Gotham's protector. If we are being honest, this description of Bruce Wayne sounds a lot like a play on the character's run in the popular '90s/'00s animated series Batman Beyond, which this lifelong fan of the Defender of Gotham is all for.
While the toyline seems to point toward some variations of the acclaimed comic book arc, we know The Flash is still taking significant inspiration from the 2011 "Flashpoint" storyline. Michael Keaton's version of Batman may combine aspects from his Tim Burton-directed '89 & '92 appearances and the Thomas Wayne version of the Dark Knight or he may be playing a different Batman entirely. I suppose we won't know for sure how the movie's take on the beloved bat-themed superhero will play out until it zooms into theaters on June, 16th as one of this year's most anticipated upcoming superhero movies.
Your Daily Blend of Entertainment News
Ryan graduated from Missouri State University with a BA in English/Creative Writing.