James Gunn Gives Two Reasons Why The Latest Zack Snyder Fan Hashtag Is 'The Wackiest'
James Gunn didn't mince words.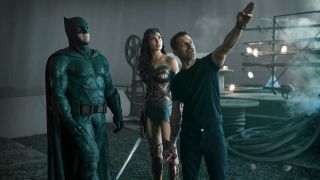 (Image credit: Warner Bros)
It's official: we're entering a new era with upcoming DC movies and upcoming DC TV shows. Last week, DC Studios heads James Gunn and Peter Safran unveiled a slate of 10 projects that compose the launch of the DC Universe franchise's Chapter One, titled Gods and Monsters. And yet, there's a segment of the DC fanbase that's clinging to the hope that Zack Snyder can one day finish telling his saga with these superhero characters. Just last month, a new fan campaign started rolling around to somehow sell the Snyderverse to Netflix, and Gunn has now given two reasons why the #SellTheSnyderVerseToNetflix hashtag is "the wackiest."
James Gunn shared his thoughts on the subject after a fan commented with the hashtag to his tweet that simply showed a picture of Swamp Thing, who is getting a new movie that James Mangold may direct. Gunn responded to the Zack Snyder supporter with this:
DC and Netflix do already have a relationship thanks to the latter streaming service being the home of The Sandman and Sweet Tooth, two TV adaptations of comic book series that were published through DC's now-defunct Vertigo line. And while James Gunn revealed that there are continued discussions between the two sides, not only has Netflix not expressed any interest in tackling the Snyderverse, neither has Zack Snyder himself. Remember, the man is already has enough on his plate to deliver to Netflix subscribers in the coming years, including his sci-fi epic Rebel Moon, which boasts a huge cast.
After James Gunn tweeted his opinion about #SellTheSnyderVerseToNetflix, another fan was curious about what he and Zack Snyder have talked about, to which the filmmaker said in a new tweet:
So there you have it: not only is Zack Snyder already content with his work on the two-part Rebel Moon and the Army of the Dead franchise, he sounds interested in what James Gunn and Peter Safran have cooked up over at DC. That's not to say that Snyder couldn't someday direct another DC movie, but between Watchmen, Man of Steel, Batman v Superman: Dawn of Justice and his cut of Justice League, the man has already played around quite a bit in this proverbial sandbox. So sorry to the Snyderverse fans out there who've been hoping that Snyder could continue fleshing out his corner of the DC multiverse at Netflix, but that just isn't in the cards.
You'll be able to see how Rebel Moon turned out when the first part hits Netflix on December 22, and once Snyder's work in this sci-fi world is finished, presumably he'll turn his attention to helming Planet of the Dead. As far as DC goes, although there are four upcoming DC movies lined up this year, James Gunn and Peter Safran's DC Universe won't officially kick off on the cinematic front until Superman: Legacy comes out on July 11, 2025, though it's possible that the animated Creature Commandos series could premiere to HBO Max subscribers beforehand.
Your Daily Blend of Entertainment News
Connoisseur of Marvel, DC, Star Wars, John Wick, MonsterVerse and Doctor Who lore. He's aware he looks like Harry Potter and Clark Kent.