Is There More To Jon Snow's Father Situation On Game Of Thrones?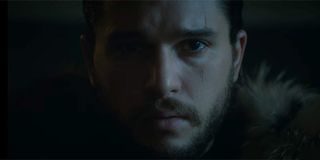 Game of Thrones mostly didn't end on a lot of cliffhangers during it's Season 6 finale. In fact, many of the main characters are going in very definitive directions, with Cersei taking the crown in King's Landing, Jon Snow getting declared The King in the North (The King in the North!) and Dany finally leaving Meereen and heading to Westeros. Sure, each of these plotlines will eventually need to be resolved, but they aren't cliffhangers in the same way that Jon Snow's death scene was last year, or The Walking Dead's big death was this year. While a lot of stories came together in the Season 6 finale, there is one storyline that we have not gotten a satisfactory answer to. That plot revolves around Bran's new duties as the Three-Eyed Raven and the scenes he has been watching at the Tower of Joy.
In the Season 6 finale, Bran was led to a new weirwood tree by Benjen Stark. When he got there, he settled in an encountered the Tower of Joy once more. In this instance, Ned Stark finally reached his sister. Although he was happy to see her, it became clear that she was dying and that there was a newborn babe in the picture. Lyanna Stark whispered something unintelligible into Ned's ear. He was handed a baby---Jon Snow---as his sister's life expired.
We know Ned Stark brought a baby home with him. We now know Lyanna Stark did have a baby before she died. We also know that Game of Thrones chose to shoot a close-up of the baby's eyes just before shooting a look at the adult Jon Snow's eyes. The intimation couldn't be clearer: Jon Snow is the baby, the son of Lyanna Stark.
This lends credence to ½ of the popular Game of Thrones theory R+L=J, which states that Jon Snow is the byproduct of Rhaegar Targaryen and Lyanna Stark. Since Rhaegar's men were guarding Lyanna Stark outside the Tower of Joy in Season 6, it stands to reason there is a possibility that Rhaegar is the father of the baby.
A popular Reddit theory this week mentions that Lyanna may have whispered Jaehaerys, a Targaryen name that could be Jon Snow's birthright, while other people think Lyanna may be whispering, "his name and his house is." We've watched the scene numerous times and can't tell. Meanwhile, Miguel Sapochnik, who actually directed the episode, says that we aren't supposed to know what the heck she says during that scene, although he joked to EW:
Still, Game of Thrones showed no inclination to fully bring that mystery full circle, yet. With no new George R.R. Martin novels as guidelines, fans have begun creating their own theories related to the series, and not everyone is so convinced that R+L=J will become truth. Other people have mentioned that Robert Baratheon-who was betrothed to Lyanna--may have had a baby with her, although since he had plenty of bastards roaming around Westeros, it seems unclear why Lyanna would be wary of Robert finding out about her child--unless he was the product of the enemy. Of course, Game of Thrones often features twists, and there could be a lot more to Jon Snow's origin story than the hints have laid out. There may very well be more to the Jon Snow father situation on Game of Thrones.
At this point, the cast haven't even gotten the scripts for Season 7, so they are just as in the dark as the rest of us, but the R+L=J theory seems to be popular, even among the castmembers. Here's what Isaac Wright-Hempstead, who plays Bran Stark, had to say in a recent interview:
Considering King Aerys had Ned's father and sibling killed when they were upset about Lyanna's kidnapping, plus considering Rhaegar clearly had affection for Lyanna, the signs seem to clearly point to R+L=J coming to fruition. At least one thing is certain. Lyanna Mormont was not wrong when she spoke of Stark blood running through Jon Snow's veins.
Game of Thrones will return to HBO's schedule next spring. To find out what we know so far, head here.
Reality TV fan with a pinch of Disney fairy dust thrown in. Theme park junkie. If you've created a rom-com I've probably watched it.