Big Brother 18 Just Evicted Another Houseguest, And Closed Out One More Twist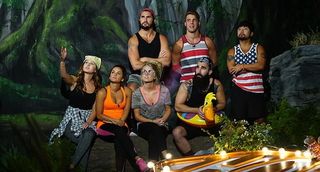 To put it mildly, this season of Big Brother has really turned around. What began as a season of people following the herd and ganging up on houseguests has somehow managed to morph into a summer of strategic moves and surprising comebacks. We can only hope that tonight's eviction doesn't prove to be Season 18's peak.
Spoilers from the Thursday night live episode ahead!
To say that Paulie's eviction from the Big Brother house was an event would be an understatement. Fans of Big Brother were so evidently strongly behind the ousting of Cody Calafiore's brother that the hashtag "PaulieEvictionParty" was actually trending on Twitter during the broadcast of tonight's episode. Paulie worked hard for the first half of this season to win competitions and lock himself into a center position of numerous alliances, only to have it all come crashing down last week, when Natalie and Bridgette orchestrated his demise, first by securing the votes to save Michelle and send Zakiyah packing, and by proxy, turning some of his closest allies against him.
Honestly, it seemed like the house was ready to hand him the game. And then it all changed.
After being blindsided with a nomination from your boy and his BFF, your boy, Paulie spent the week battling his own emotions, getting weepy over a butterfly, refusing to bake his punishment pies, trying to grin and bear his own downfall, and actually attempting to secure enough votes. He only needed three. He received zero. Paulie's credibility was essentially null and void in the eyes of Paul, Victor and James. Without their support (and Natalie's), he had no chance of staying. So his exit was not surprising.
Feed watchers and those who took the hints from the Veto episode last night knew the odds were high that Paulie would be sent out tonight. But we didn't know whether or not Paulie had the Round Trip ticket.
He didn't. So Paulie joins Zakiyah, Da'Vonne and Bridgette in the jury house for now. He left with smiles and a lengthy speech, which included dipping Michelle for what might've been an actual kiss.
Points to him for taking a deep breath and trying to be positive about everything in the end. And ok, if we're giving credit out, points to Corey for giving Paulie the motivational speech he needed to get back in the kitchen and get to work on those pies. If Corey had been doling out legitimate advice to Paulie all season, maybe they wouldn't have been in this mess.
No new Head of Household was crowned, so we'll have to wait for that, along with who wins the co-HoH care package (arguably the best prize of this twist). We also have a special Friday episode to anticipate, which is reportedly set to include footage from the Ziggy Marley concert taped at the house, and whatever perks and prizes the houseguests will face off for.
Speculation was that the Friday ep would bring back one of the jurors, assuming the round trip ticket wasn't used tonight. However, that's not the case. Julie revealed that the four evictees, and whoever goes next week, will face off next week for a chance to return to the game. So there's one more eviction before the buy-back.
In other news...
After Paulie's ticket turned out to be one way, Big Brother gave us the satisfaction of learning who had it by having all of the houseguests open their envelopes at the end of the show. Turns out, Paul had the ticket all along. Given that he was the one that found the Paris room, that seems only fitting. Still kind of a flat twist in the end, seeing as no one benefited from it.
Brendan and Rachel's baby made her Big Brother debut tonight. She's Adora-ble. And points to Rachel for not even trying to pretend not to brag about beating the other Big Brother marriages by having the first baby.
The first jury footage did not disappoint. Da'Vonne was sufficiently devastated to see her friend Zakiyah walk through the door. And she was hilariously speechless when she watched the competition footage only to see Paulie win the Veto, knowing he obviously didn't use it on his supposed showmance. It seems unclear if Paulie and Zakiyah are officially over at this point. Paulie seemed indifferent-to-uninterested at the idea of pursuing her outside of the house, when Julie asked him about it. Zakiyah seemed irritated at him over her eviction when she was talking to Da'Vonne in the jury house. And yet, i'm still not convinced their story has come to an end.
Who knows?
One of them could end up coming back into the house as soon as next week.
Just saying.
For those of you who want a glimpse of the Friday episode (and see which former Big Brother houseguest is back to host the event!), head over to the next page for some photos...
Your Daily Blend of Entertainment News
Assistant Managing Editor
Kelly joined CinemaBlend as a freelance TV news writer in 2006 and went on to serve as the site's TV Editor before moving over to other roles on the site. At present, she's an Assistant Managing Editor who spends much of her time brainstorming and editing feature content on the site.