11 Failed TV Spinoffs That Actually Sound Awesome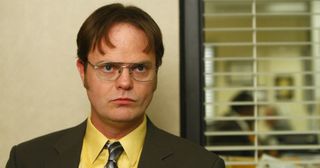 Everyone knows that success begets success in the world of television. If an idea works with audiences, then a network will invariably seek to capitalize and create more. This idea led to the existence of spinoffs, which -- from Frasier, to Better Call Saul -- have become some of the best sources for high quality television in recent years.
However, not every spinoff makes it to the small screen -- even if they deserve it. For every mediocre and unrealized idea about Gilmore Girls' Jess living the good life in California, there are a ton of great spinoffs that never make it through development. With that in mind, we have compiled a list of failed TV spinoffs that actually sound awesome. These potential series never materialized, but they were great ideas that had insane levels of potential. Now let's get started with one of the most bizarre (and intriguing) Seinfeld spinoffs that never actually saw the light of day...
Seinfeld - The Jackie Chiles Show
Can you believe this awesome character only appeared in six episodes of Seinfeld? Kosmo Kramer's favorite lawyer, Jackie Chiles, almost got a spinoff of his very own after the show about nothing came to an end in 1998. Although it never came to fruition, The Jackie Chiles Show would've followed the fast-talking Johnny Cochran parody as he went to work as the only black lawyer in an all white law firm following the events of the Seinfeld series finale. Larry David and Jerry Seinfeld were set to executive produce the series, with actor Phil Morris lined up to reprise his role as Jackie Chiles. However, the show only made it to the early stages of development before it was eventually dropped by NBC.
The Office - The Farm
If any character on NBC's The Office seemed ripe for a continued storyline after the workplace comedy's final season, it had to be Rainn Wilson's Dwight Schrute. As it turns out, the Season 9 episode titled "The Farm" was intended as a "backdoor pilot" to gauge audience enthusiasm for a series focused solely on Dwight and his home life at Schrute Farms. The episode even introduced several potential supporting characters that would've carried over to the new series, such as Thomas Middleditch's Jeb. Alas, "The Farm" episode of The Office was widely panned by critics and audiences, thus killing NBC's interest in pursuing any further storylines with Dwight outside of his job at Dunder Mifflin. If you ask me, the spinoff deserved more of an opportunity to get itself up and running.
Will & Grace - Karen & Jack
Following the finale of Will & Grace in 2006, Sean Hayes and Megan Mullally took a brief hiatus from their commitments to NBC Television. However, in 2008 they reunited to begin development on a Will & Grace spinoff centering on their eccentric side characters, Jack and Karen. Sadly, the project never made it past the development stage -- primarily because those involved worried about the failure of Friends' Joey spinoff. However, the entire cast of Will & Grace recently reunited to poke fun at the 2016 election, proving that such an idea could definitely still work. Jack and Karen are two of the funniest television characters in recent memory, so a spinoff centering on their relationship could've been something truly amazing.
Friends - Girlfriends
While NBC eventually decided to produce a Friends spinoff in the form of the ill-fated Joey, another idea was developed a number of years ago, as well. Aptly titled, Girlfriends, the Friends offshoot would've put Lisa Kudrow's eccentric Phoebe in the spotlight for a story of her very own. Not much is known about the overall premise or plot of the unmade spinoff, but we do know that it would've brought back Aisha Tyler's Charlie, as well as David Schwimmer's Ross in supporting roles. Although Joey clearly didn't pan out, Girlfriends sounds like it could've been something incredibly special to Friends fans everywhere.
Cheers - Norm & Cliff
NBC clearly understood that all of the Cheers characters were ripe for spinoffs when the show came to an end in 1993. In addition to the short-lived Tortellis series, and the wildly popular Frasier series, NBC approached George Wendt and John Ratzenberger to reprise their respective roles as Norm and Cliff for a spinoff series centering on the two boozie best friends. Despite the network's clear enthusiasm and insistence for the project, the decision ultimately fell to the Cheers creators, who turned down the job five separate times. Now we will sadly never know how these two TV icons spent their time together when not guzzling beer at the best bar in Boston.
The Simpsons - Tales from Springfield
In 1996, The Simpsons aired an episode called "22 Short Films About Springfield," which took the focus away from Evergreen Terrace's favorite family and shined a new light on the average citizens in Springfield. The episode was an incredible success with audiences, and The Simpsons writing staff eventually began toying with the idea of a spinoff series that would focus on three different Springfield vignettes each week. The writers of the hit FOX series were eager to pursue Tales from Springfield, until series creator Matt Groening realized there simply wasn't enough manpower to produce two Simpsons shows simultaneously. Although the project never got off the ground, "22 Short Films About Springfield" continues to live on as one of the series' best episodes.
Mad Men - Sally Draper
With shows like Better Call Saul and Fear the Walking Dead, AMC has proven that it knows how to do spinoffs better than most networks. However, not every Golden Age AMC spinoff has materialized. Mad Men creator Matthew Weiner established an incredible amount of good faith with the network with Don Draper's life story, and AMC approached him to develop a series based on Sally Draper's life as an adult in the modern age. AMC was reportedly incredibly enthusiastic about the idea (and Jon Hamm even voiced his support for the idea) but Weiner ultimately decided that he did not want to return to the Mad Men universe. Sadly we will never know how Sally made it through her tumultuous formative years.
The Wire - The Hall
The legacy of HBO's The Wire really cannot be understated, and we would've loved to see any spinoff based on the Baltimore underworld. As it turns out, David Simon and the creative team behind The Wire actually pitched a spinoff series to HBO after Season 3 of the legendary series. Tentatively titled, The Hall, the project would've maintained a consistent focus on the inner workings of Baltimore's city hall, with Aidan Gillan's Tommy Carcetti taking the lead role. The events of The Hall were intended to run parallel to the story of The Wire, but HBO eventually declined the pitch, citing The Wire's low viewership as a reason not to pursue the project.
Batman - Gotham High
A few years ago, DC Entertainment approached artist Jeffrey Thomas and writer Celeste Green for a brand new take on the animated Batman mythos. Titled Gotham High, the potential series would've taken the heroes and villains of Gotham City and filtered them through an awesome teen angst lens. Applying cliché high school cliques to the villains -- Killer Croc as a jock, Scarecrow as an emo kid, Joker as the class clown, etc. -- Gotham High would've been equal parts Batman and The Breakfast Club. Although a number of concept designs were created for the spinoff, DC eventually dropped the idea, which subsequently led to the more traditional Beware the Batman series in 2013.
Buffy the Vampire Slayer - Ripper
Joss Whedon toyed with a number of potential spinoffs for his hit series, Buffy the Vampire Slayer, but this one is easily the coolest. Titled, Ripper, the potential show would've followed rebellious badass and occult expert Rupert Giles on his own series of supernatural adventures. Although the spinoff never made it past the concept stage, Whedon has remained vocal in his desire to someday get Ripper off the ground, as long as actor Anthony Head remains young enough to play the titular role. For now, Ripper remains a great idea that never had the opportunity to properly flourish.
Agents Of S.H.I.E.L.D - Marvel's Most Wanted
Marvel Studios' first real foray into television took some time to properly find its footing. Agents of S.H.I.E.L.D really came into its own during its second season, and much of that had to do with the introduction of fan-favorite characters, Mockingbird and Lance Hunter. Marvel actually filmed a pilot centering on these two badasses (titled, Marvel's Most Wanted) but ABC passed on it after deeming it weaker than other developed pilots. Although the project is currently dead, a fan petition recently surfaced online to convince ABC to release the pilot online for fans of these two Marvel secret agents. Let's keep our fingers crossed!
Your Daily Blend of Entertainment News
Originally from Connecticut, Conner grew up in San Diego and graduated from Chapman University in 2014. He now lives in Los Angeles working in and around the entertainment industry and can mostly be found binging horror movies and chugging coffee.