Days Of Our Lives Legend Joseph Mascolo Dies At 87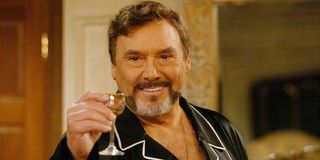 When it comes daytime television villains, there may not have been anyone better than Stefano DiMera. A staple of NBC's Days of Our Lives, the classically nefarious DiMera hatched scheme after scheme to achieve his goals. He was brought to life by actor Joseph Mascolo, who unfortunately passed away on Wednesday at 87 years old.
It is being reported by Deadline that Joseph Mascolo has passed away after a battle with Alzheimer's Disease. Though he's held a wide variety of roles in film, television, and theater, Mascolo is best known as the scenery-chewing villain Stefano DiMera on Days of Our Lives. Mascolo joined the soap opera in 1982 after the character of DiMera was created with him in mind. Stefano was a seemingly good intentioned European businessman who was eventually revealed to be the lynchpin of several criminal organizations. Never one to let ethics stand in his way, the villain had his hands in organized crime, shady business dealings, and terrorism. Though he was unquestionably the bad guy, he was also portrayed as a complex family man with relationships with several main characters.
A fan favorite character, Joseph Mascolo would play the role of Stefano DiMera for a combined 26 years. His last appearance on Days of Our Lives was in 2016. Though he cemented himself on Days of Our Lives, Mascolo was a man of many talents and pursued several different careers as an artist. Born in West Hartford, Connecticut in 1929, Mascolo first attempted a career in classical music. He attended the University of Miami with a musical scholarship before switching gears to study opera. This eventually led to acting, and he moved to New York while supporting himself as a concert clarinetist.
Joseph Mascolo began his acting career in theater with off-Broadway plays, before making the jump to Broadway as an understudy in Sidney Kingsley's Night Life. Eventually, he would make the move to Los Angeles after visiting the city with the national tour of the Pulitzer-winning That Championship Season. It was with his transition to LA that he began to acquire film roles, making his onscreen debut in 1970' Diary of a Mad Housewife. He'd go on to appear in several films over his long career, such as Jaws 2, Shaft's Big Score, and the Burt Reynolds led 1986 movie Heat.
During this time, Joseph Mascolo also worked in television, appearing in roles on classic TV shows like All in the Family, The Incredible Hulk, The Rockford Files, Kojak, and It's Gary Shandling's Show, among several others.
Through his long and storied career as an actor, Joseph Mascolo also supported several causes as an activist. He had an interest in supporting those with mental health disabilities, helping to fundraise for New Horizons- a non-profit which provides aid for adults with developmental disabilities. For his efforts in building a group home for the emotionally impaired, Ocilla, Georgia honored Mascolo with a street named after him.
Joseph Mascolo is survived by his wife Patricia, his son, his step-daughter, five grandchildren, and three great-grandchildren.
Matt has lived in New Jersey his entire life, but commutes every day to New York City. He graduated from Rowan University and loves Marvel, Nintendo, and going on long hikes and then greatly wishing he was back indoors. Matt has been covering the entertainment industry for over two years and will fight to his dying breath that Hulk and Black Widow make a good couple.
Your Daily Blend of Entertainment News
Thank you for signing up to CinemaBlend. You will receive a verification email shortly.
There was a problem. Please refresh the page and try again.