Judge Dredd Is Finally Getting A TV Show, And It Sounds Amazing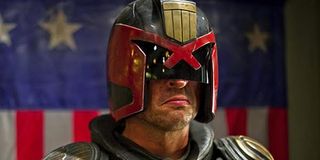 Years after Pete Travis revitalized interest in the franchise with his 2012 cult classic film Dredd, Judge Dredd is getting a television show. That's right, all those fans who clamored for a sequel to the rebooted exploits of Karl Urban will get to jump into the chaotic future of Mega City One once again, but is this the same universe as the films? Here's what we know so far about the new project, titled Judge Dredd: Mega-City One.
Judge Dredd: Mega-City One is described as an ensemble show that follows a group of judges living in the iconic Mega City One that's regularly highlighted in the Judge Dredd comics and films. The action-drama is currently in the early stages of development, and no casting has been announced as of yet. In fact, Dredd himself isn't even named in the announcement, but we'll assume he's in there, though likely without Karl Urban under the helmet. One can dream, though.
EW reports that three executive producers from Dredd (Stuart Ford, along with Jason and Chris Kingsley) are attached to the TV show. That's great news for anyone who was a fan of the rebooted franchise, which has achieved cult status and a strong fan dedication despite a lackluster performance at the box office. The attachment of the Dredd team seems to indicate this version will remain faithful to the original Judge Dredd comics first created by John Wagner and Carlos Ezquerra in the late '70s.
If you want to know why people are more excited about Judge Dredd: Mega-City One being closer to the Dredd franchise than the original Judge Dredd, which starred Sylvester Stallone, you likely haven't seen Stallone's version. While neither film was viewed as a commercial success, much of the fan love behind Dredd is rooted in the film being a more faithful adaptation to the comics than the over-the-top '90's adaptation. Creator of Judge Dredd John Wagner said in 2012 that while he loved the casting of Stallone as the character, he hated the portrayal in the film and felt it didn't resemble his character in the slightest. Wagner is a fan of the 2012 film Dredd, however, and remarked that Karl Urban was a fine Dredd, and he'd love to see Urban in a follow-up. I'm sure we'd all love to see the same, but what are the odds of Urban coming to Judge Dredd: Mega-City One?
Urban has expressed interest in returning to the franchise in the past. Furthermore, the actor is no stranger to television and had a great run on the now-canceled Fox sci-fi series Almost Human. Urban has championed his own return in the past, and has retweeted and pinned today's announcement to his Twitter page, so could that be a sign something is in the works? I know that's something I as well as many other Dredd fans are hoping for!
For those wondering what role fans played in making Judge Dredd: Mega-City One happen, we've received confirmation the Facebook fan page Bring Back Dredd has now become the official page for the new project. The cover photo includes a concept picture of Mega-City One with the tagline "Four hundred million citizens, every one a potential criminal." The fan page, which featured a little over 100k people prior to the announcement, has been a driving force in viral campaigns in drumming up support for the Judge Dredd franchise ever since Dredd released in 2012. Executive producers Jason and Chris Kingsley acknowledged these fans as well as others in the announcement and said their support and pressure is what made this happen. Fans everywhere should revel in this sweet vindication that Hollywood is paying attention to fan efforts, and all that internet ranting is paying off!
As someone who has been one of the voices pushing for a Dredd sequel, Judge Dredd: Mega-City One is honestly a dream come true. (Or could be.) Even if Karl Urban is not attached, I can't wait to hear more about it and what network (or streaming service) will sign on. We'll keep an eye out for more details regarding the show so all you have to do is check out some fresh shows on the horizon as well as when your favorite shows are coming to an end.
Mick likes good television, but also reality television. He grew up on Star Wars, DC, Marvel, and pro wrestling and loves to discuss and dissect most of it. He's been writing online for over a decade and never dreamed he'd be in the position he is today.
Your Daily Blend of Entertainment News
Thank you for signing up to CinemaBlend. You will receive a verification email shortly.
There was a problem. Please refresh the page and try again.